Fudgey Banana Brownies
These brownies are seriously dangerous. Dangerously delicious. I was a bit skeptical about how they'd turn out. I figured the banana would just serve to boost the moistness of the brownies. When I took my first bite, I realized that the banana flavor is actually pretty strong.
Hubby did thank me for warning him that they were banana flavored. I think if you bit into one and weren't expecting the banana flavor, it would really throw you off!
I threw these brownies into the freezer so we wouldn't eat the whole pan of them in a day or two… They were great cold, at room temperature, and even better zapped in the microwave for a few seconds. Of course, if you have a warm gooey brownie, you might as well top it with a scoop of ice cream and some leftover dulce de leche. That was definitely my favorite way to enjoy these brownies!
Three Years Ago: Perfect Summer Salsa and Dairy Free Cheesecake Pops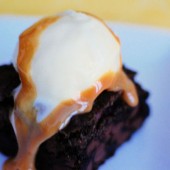 Fudgey Banana Brownies
Ingredients:
1/2 cup butter
1/2 cup shortening
1 cup sugar
1/2 cup brown sugar
1 tsp vanilla
2 medium bananas, mashed
2 cups flour
1/3 cup dark cocoa
1 tsp baking soda
1 tsp salt
1 1/2 cups chocolate chips
Directions:
Preheat oven to 350 degrees.
Combine flour, cocoa, baking soda, and salt.
Beat butter, crisco, sugar, and brown sugar until light and creamy. Add mashed banana and vanilla and beat until combined.
Add flour mixture and mix until combined. Stir in chocolate chips.
Press batter into a lightly greased 8×8 baking pan. Bake for 25-30 minutes or until a toothpick comes out semi-clean. Cool before cutting into 16 pieces.

Don't forget about Bloggers Bake for Hope – Bloggers Bake. You Bid. 100% of proceeds go to Komen for a Cure. Register to bake by April 30th, come back for bidding May 4-6.

2 Responses to "M&M, that spells MMmmm… (Eat to the Beat)"
Leave a Comment