Gingerbread Cupcakes with Lemon Cream Cheese Frosting
Gingerbread is a classic holiday flavor. I actually had never had gingerbread until I met Hubby. I guess it just wasn't part of my eating background growing up. A few years ago I made some gingerbread cut out cookies that had a lemon cream cheese frosting piped onto them. I was remembering those cookies when I decided to make these cupcakes. I'm entering these cupcakes into Baking Bites Holiday Cupcake Contest (and just barely in time since entries are due by midnight tonight!)
I love these cupcakes because they have very festive sprinkles, (I love sprinkles), festive colors, and festive flavors. For the frosting, I made a lemon cream cheese frosting. Lemon actually pairs really well with gingerbread even though most people gave a weird look when I told them the frosting flavor.
I mentioned the festive colors. Not only are the sprinkles red and green, but the cupcake liners are as well. I love the vibrant colors of these liners and I'm hoping Santa brought me some more, because I'm starting to run low.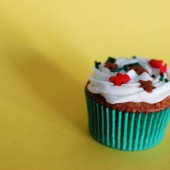 Gingerbread Cupcakes with Lemon Cream Cheese Frosting
Ingredients:
For the Gingerbread Cupcakes
1 1/2 c flour
2 Tbsp ground ginger
2 tsp cinnamon
1/4 tsp freshly grated nutmeg
1/4 tsp ground cloves
1 1/2 c (3 sticks) unsalted butter, at room temp
1 1/2 c sugar
3 Tbsp molasses
4 eggs, at room temp
1 tsp vanilla extract
For the Lemon Cream Cheese Frosting
1 8-ounce package cream cheese, at room temperature
1/2 stick unsalted butter
4 cups confectioners' sugar
Zest of 1 lemon, grated
2 tablespoon fresh lemon juice
Directions:
For the Gingerbread Cupcakes
Preheat oven to 350. Line muffin tins with paper liners.
Sift flour and spices together and set aside.
Cream butter and sugar until light and fluffy. Add molasses and beat until combined. Add eggs, one at a time, beating until combined. Beat in vanilla. With mixer on low, add flour mixture until just combined.
Fill each muffin tin ~3/4 full. Bake ~25 minutes until a toothpick comes out clean. Cool completely.
For the Lemon Cream Cheese Frosting
With an electric mixer on medium, beat the cream cheese and butter until softened. Slowly add the sugar, zest, and juice and beat until creamy, about 3 minutes.
3 Responses to "Cinnamon Puppy Chow"
Leave a Comment