Christmas in July – Homemade Taco Seasoning
For my second gift idea this week, I went with a simple gift. Remember those crockpot chicken tacos I made last summer? With the homemade taco seasoning? Hubby and I love that taco seasoning. We use it anywhere you would normally use a packet of store-bought taco seasoning. We love it so much we thought it would be great to share with our family and friends.
So we mixed up a VERY large batch of the seasoning. I ordered some cute little jars and again put labels on them including instructions of how to make the taco seasoning when people ran out. I saved the label files if anyone is interested in them. Just shoot me an email.
One Year Ago: Monkey Bread and Boston Cupcake Crawl
Two Years Ago: Tomatoes stuffed with Salmon Dill Dip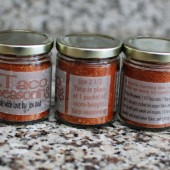 Homemade Taco Seasoning
Yield: 2 1/2 Tbsp is equal to one packet from the store
Ingredients:
3 Tbsp chili powder
1/2 tsp onion powder
1/2 tsp dried onion flakes
3/4 tsp garlic powder
3/4 tsp oregano
1 tsp crushed red pepper flakes
1/4 tsp cayenne pepper
1 tsp paprika
1 1/2 Tbsp cumin
2 1/2 tsp kosher salt
1 Tbsp black pepper
Directions:
Mix it all together! The mix can be stored in an airtight container for up to a year!
One Response to "Homemade Garlic Pizza Sauce"
Leave a Comment