Salmon with Strawberry and Tomato Salsa
Another savory recipe for you guys today. I saw this recipe on Katie's blog not too long ago and was completely intrigued. If you haven't had a chance to check out Katie's blog, be sure to do so. She's got some great recipes and party menu ideas over there.
I would have never thought to pair salmon and strawberries. Or tomatoes and strawberries. But it really works. I made this while Hubby was out of town and really enjoyed eating this meal and it was great left over as well.

The strawberries and tomatoes pair together nicely. The green onions in the salsa provide a nice crunch. The directions that Katie gave to broil the salmon result in a delicious salmon. I'll definitely be using that method for salmon cooking in the future.

I didn't serve this over rice like Katie suggests, I just ate it as-is. After seeing the pics, Hubby is jealous that I didn't make this when he was home. Lucky for him it was delicious and we will be having this again soon!
Check out my entire week of Strawberry recipes here.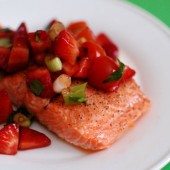 Salmon with Strawberry and Tomato Salsa
Ingredients:
4 salmon fillets
juice of half of a lemon
salt and pepper to taste
1 pint fresh strawberries, hulled and diced
1/2 pint cherry tomatoes, quartered
4 scallions, white and light green portion diced
1 tsp chopped fresh parsley
1 Tbsp balsamic vinegar
1 tsp red wine vinegar
1 tsp fresh lemon juice
1/4 tsp olive oil
drizzle of honey
dash of salt and pepper to taste
Directions:
Preheat broiler on low. Line baking sheet with tin foil, folding edges upwards to contain mess.
Squeeze fresh lemon juice onto tops of each fillet and generously season each with salt and pepper. Place on the bottom rack of the oven (away from broiler) and broil on low to desired doneness, about 10 minutes dependent upon thickness of fillets.
Meanwhile, prep remaining salsa ingredients and combine in medium bowl. Stir to combine and let sit.
Remove salmon from oven and let rest 5 minutes. Using small spatula or fork, remove salmon from skin (skin should stick to the tinfoil and be easy to remove) and place on plate.
Top generously with strawberry and tomato salsa and serve hot
Leave a Comment