M&M Cookies to Celebrate Valentine's Day
Hubby and I don't usually celebrate Valentine's Day. I'm not sure how that happened, but we're both ok with it. We usually just have a nice dinner at home and some wine. No gifts, no fancy restaurants, just chillin. Even though we don't get all romantic and mushy on Valentine's day, I do love to bake for this holiday.
You see, my three favorite colors are red, pink, and purple. I love them all almost equally, but if I had to rank them, it'd be red first, then purple, then pink. Not pastel pink, a good hearty dark-hot-pink – like the dark pink M&Ms in the Valentine's Day color combo. One of the reasons I love baking for Valentine's day is that I'll most likely be making something with one of my favorite colors. Last year I made red velvet cupcakes that I took to work. This year, I happened to grab a bag of Valentine's Day M&Ms while I was at the store the other day.
I have a soft spot for holiday colored M&Ms. Not sure why, but I just love them. So I set out to make some M&M cookies. Now I've already made two versions – regular M&M cookies and chocolate M&M cookies. Both were great, but I always prefer to try new recipes.
I whipped up this batch of cookies last weekend, but didn't want to have cookies in the house, so I baked up a dozen and froze the rest. The dozen that I baked went with me to a food photography seminar – which I still need to blog about (check out Elina's or Kerstin's recap).
To freeze the cookies, I just rolled them out as if I was going to bake them. Then I put them on a cake pan lined with waxed paper and threw them into the freezer. Once they were frozen, I put them all into a ziplock bag. These frozen cookies are going to some friends who just had a baby. That way the new parents can bake a couple cookies at a time for some instant comfort.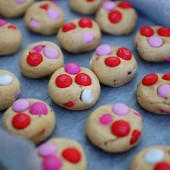 M&M Cookies
Ingredients:
1 c brown sugar
1/2 c sugar
1 c shortening
2 eggs
1 1/2 tsp vanilla extract
2 1/2 c flour
1 tsp baking soda
1 tsp salt
1 1/2 c M&Ms
Directions:
Preheat oven to 350 degrees.
In a large bowl, mix sugar, eggs, shortening, and vanilla thoroughly. Add flour, salt, and baking soda to creamed mixture. Blend well. Add 3/4 cup of M&M candies.
Portion out some dough using a cookie scoop. Using your hands, roll into a small ball and place on cookie sheet. Slightly push a few candies on top of each dough ball with remaining candies.
Bake for 9 to 11 minutes. (13-15 if taking straight out of the freezer).
9 Responses to "Superbowl Cupcakes! Go Colts! Go Saints!"
Leave a Comment