Jalapeno Popper Inspired Grilled Cheese
Well it's here. The week of the Superbowl. I'm lucky enough to have friends who don't mind me taking over their kitchen to provide all the food for their Superbowl party. Fiona and I have a pretty killer menu planned out for next Sunday. For the rest of you who might still be tweeking your menus or who just need a few more ideas, I've got some posts coming up this week that will hopefully inspire your football food needs.
You all know I'm a big wimp when it comes to spicy foods. So I could only handle about one bite of this Jalapeno Popper Inspired Grilled Cheese. That one bite was delicious. I had hoped that roasted the jalapenos might mellow them out a bit, but it didn't. I loved the addition of the apricot preserves gives a subtle sweetness and the goat cheese mimics the cream cheese smoothiness that is found in most jalapeno poppers. Hubby really enjoyed this sandwich and it would make a great addition to your Superbowl spread.
Two Years Ago: Butternut Squash and Spinach Casserole
Four Years Ago: White Chocolate Mocha Cupcakes – take two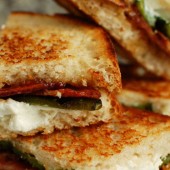 Jalapeno Popper Inspired Grilled Cheese
This sandwich combines goat cheese, roasted jalapeno peppers, bacon, and apricot preserves for a sophisticated take on a jalapeno popper.
Ingredients:
2 slices sourdough bread
2 ounces goat cheese, softened to room temp
4 slices crisp-fried bacon
3 whole fresh jalapeno peppers
1 Tbsp apricot preserves
2 Tbsp butter
Directions:
Slice each jalapeno in half lengthwise, and remove stem, ribs and seeds.
Place cut-side-down on a baking sheet, and broil until skins blacken and blister, about five minutes. Remove jalapenos from broiler, and transfer immediately into a plastic bag or other sealed container.
Seal and let steam until cool enough to handle, about 10-20 minutes. Remove blackened skins by pinching them between your thumb and forefinger, and discard.
Spread one of the slices of bread with the goat cheese. Top with roasted jalapeno peppers, then bacon.
Spread the other piece of bread with the apricot preserves, and add to sandwich. Butter each side of the sandwich, and toast in saucepan over medium heat until bread is toasted, about 2-3 minutes a side.
13 Responses to "More cheeses I can eat!!"
Leave a Comment