Cranberry and Avocado Salsa
Avocado is one of my favorites foods. I think I'd eat it on just about anything. Can you believe that as of a couple years ago I had never had avocado. Never had quacamole or anything. Believe me, I'm making up for lost time now!
This salsa comes together in just a few minutes, tastes amazing, and has pretty festive holiday colors. What more could you ask for? I definitely recommend making it at some point soon! It was a HUGE hit at our holiday party.
The hardest thing about this recipe was just cutting the cranberries in half. Seriously! Those little round berries just don't want to sit still. I didn't want to slice each one individually, and I don't have one of those chopper thingies, so I got a little creative. I used the ring from my springform pan to contain the berries. Then I used my bench scraper to chop them. It worked pretty well for me!
One Year Ago: Hot Cocoa Mix
Three Years Ago: Candy Cane Kiss Cookies
Four Years Ago: Peanut Butter Chocolate Biscotti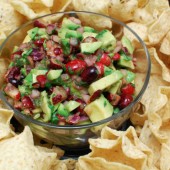 Cranberry and Avocado Salsa
Cranberry and avocado salsa is delicious and festive!
Ingredients:
1 Tbsp fresh lime juice
2 Tbsp honey
1 minced jalapeno
1/4 cup red onion, chopped
2 ripe avocados, cut into 1/4-inch pieces
3/4 cup halved cranberries, drained well on paper towels
2 Tbsp fresh cilantro, chopped
Coarse salt and ground pepper
Tortilla chips, for serving
Directions:
In a large bowl, whisk together lime juice, honey, minced jalapeno (seeds removed for less heat, if desired), and red onion.
Add avocados, cranberries, and cilantro. Season with salt and pepper; toss gently to combine.
Serve with tortilla chips.
6 Responses to "Cranberry Ice Cream"
Leave a Comment