Friday Faves – Sing for Your Supper Makes Lemon Blueberry Buttermilk Scones
Happy April Fool's Day everyone! Any good pranks out there? The weather is pulling a prank on us in Boston as we're supposed to have a rain/snow mix today. Yuck. At least the weekend is here. And that means it's time for another of myFriday Favs. This week, I'm introducing you to Amy from Sing for Your Supper. Amy and I "met" on an online cooking forum that I unfortunately don't get to participate in much anymore. Amy is such a sweetie and hosted the virtual bridal shower I participated in a couple months ago.
Howdy! It's Amy of Sing For Your Supper and I'm thrilled and honored to be one of Jen's "Friday Favs"! I'm an opera singing food enthusiast from Dallas who loves cooking, baking and all things gooey and chocolaty! I'm super lucky to be able to cook for my husband, Joel, who is the world's least picky eater! He always loves everything I make and even gets in on the cooking action sometimes as well! Our Schnauzer/Terrier furbaby and Sing For Your Supper mascot, Izzy keeps us on our toes and puts a constant smile on our faces! My food blog is just a simply gathering of recipes, photos and stories rich in warmth and memories. I love being able to share my recipes with family and friends and hope you'll enjoy! Thanks so much, Jen, for featuring me on Friday Favs!
Today I'm sharing these Lemon-Blueberry Buttermilk scones with you. They're flaky, tender and bursting with bright lemon flavor and fresh, juicy blueberries. I made these last weekend for our Saturday morning breakfast and we immediately fell in love! I had originally planned on serving them with butter and honey but we ended up loving them plain! They're delicious with a hot cup of coffee and the perfect way to kick-start your day! The best part? They take no time to throw together! All you really need is less than 30-40 minutes and you've got fresh, hot scones for breakfast! You could even make the dough ahead of time and freeze it for later use. So sleep in a little tomorrow morning and start your weekend with these fast, simple, DELICIOUS scones!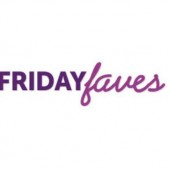 Lemon Blueberry Buttermilk Scones
Ingredients:
1 egg
2/3 cup buttermilk
2 cups all-purpose flour
3 Tbsp sugar
1 Tbsp baking powder
1/4 tsp salt
zest of 2 large lemons
1/2 pint fresh blueberries
5 Tbsp cold butter, cut into small cubes
1 egg beaten with 1 teaspoon water, for egg wash.
sugar, for sprinkling
Directions:
Preheat oven to 400 degrees.
Beat egg, buttermilk and lemon zest together and set aside.
In large mixing bowl, whisk the flour, sugar, baking powder and salt together. Add the butter and using a pastry cutter, fork or your fingers, cut it into the flour until you have a pebbly mixture the size of peas.
Pour the egg and cream into the flour/butter mixture and stir to combine with a rubber spatula. Very gently, fold the blueberries into the dough, being careful not to crush them. When the mixture is totally incorporated, torn the dough out onto a floured surface and pat out until it is 1 inch thick. Using a biscuit cutter, cut out circles and place on a baking sheet lined with parchment paper; alternatively you can just cut the dough into squares or triangles.
Brush the tops of the scones with the egg wash, then sprinkle generously with sugar. Bake for 18-20 minutes, until the are nicely browned. Serve immediately. Store any leftovers in an airtight container.
Recipe heavily adapted from from Baking: From My Home to Yours by Dorie Greenspan

Be sure to check out all of my favorite bloggers as they are featured on Friday Favs!
5 Responses to "Friday Faves – The Original Bean"
Leave a Comment