Alton Brown's Broiled, Butterflied Chicken
In case you can't tell, I'm more of a baker than a cook. There's just something about the scientific, meticulous nature of baking that I love. So more often than not, Hubby cooks. Don't get me wrong, I can definitely feed us when Hubby doesn't want to, but if I had to choose, I'd choose baking over cooking any day of the week.

Hubby likes to tackle new recipes that he's never tried before. And one place he likes to find these recipes is the Good Eats cookbook that Alton Brown autographed for us last year. One recipe that caught Hubbies eye was this broiled, butterflied whole chicken.

This chicken has become a go-to recipe to make when we're having people over for dinner. It always turns out extremely moist and it's SO SIMPLE! It also feeds 4 people which is perfect for entertaining another couple.
One Year Ago: The kickoff of our Kitchen Renovation!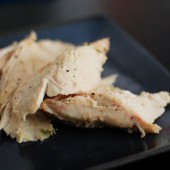 Broiled, Butterflied Chicken
Ingredients:
1/2 tsp black peppercorns
4 garlic cloves, minced
1/2 teaspoon kosher salt
1 lemon, zested
Extra virgin olive oil
Onions, carrots and celery cut into 3 to 4-inch pieces
3 to 4-pound broiler/fryer chicken
1 cup red wine
8 ounces chicken stock
2 to 3 sprigs thyme
Canola oil
Directions:
Position the oven rack 8 inches from the flame/coil and turn broiler to high. Crack peppercorns with a mortar and pestle until coarsely ground. Add garlic and salt and work well. Add lemon zest and work just until you can smell lemon. Add just enough oil to form a paste.
Cut vegetables into pieces and place in a deep roasting pan.
Place chicken on a plastic cutting board breast-side down. Using kitchen shears, cut ribs down one side of back bone and then the other and remove (Watching the episode or looking at the pictures in the book was really helpful for this part). Open chicken like a book and remove the keel bone separating the breast halves by slicing through the thin membrane covering it, then by placing two fingers underneath the bone and levering it out. Turn chicken breast-side up and spread out like a butterfly by pressing down on the breast and pulling the legs towards you. Loosen the skin at the neck and the edges of the thighs. Evenly distribute the garlic mixture under the skin, saving 2 teaspoons for the jus. Drizzle the skin with oil and rub in, being sure to cover the bird evenly. Drizzle oil on bone side of chicken as well.
Arrange bird in roasting pan, breast up, atop vegetables.
Place pan in oven being sure to leave the oven door ajar. Check bird in 10 minutes. If the skin is a dark mahogany, hold the drumstick ends with paper towels and flip bone-side up. Cook 12 to 15 minutes or until the internal temperature reaches 165 degrees. Juices must run clear. Remove and place chicken into a deep bowl and cover loosely with foil.
Tilt pan so that any fat will pool at corner. Siphon this off with a bulb baster. Set pan over 2 burners set on high. Deglaze pan with a few shots of red wine and scrape brown bits from bottom using a carrot chunk held with tongs. Add chicken stock, thyme, the remaining garlic paste and reduce briefly to make a jus. Strain out vegetables and discard. Slice chicken onto plates or serve in quarters. Sauce lightly with jus and serve.
5 Responses to "Crockpot Red Curry Chicken with Butternut Squash"
Leave a Comment