Candied Bacon Chocolate Chip Cookies
After I made those disappointing Bacon Bourbon Brownies, I couldn't get the thought of a bacon-ey dessert out of my head. Luckily there are plenty of bacon filled desserts out there on the internet. I was so happy when I took my first bite of these cookies. The bacon lends a smokey saltiness that isn't too overpowering but very well appreciated.
I took these cookies to work and had fun listening to people's reaction when they saw the label on the ziplock bag. Some people were instantly turned off by the idea of bacon in a cookie. Others were intrigued and a few of them didn't believe there was actually bacon in them until they took a bite.
I chopped the bacon pretty small so you don't see huge chunks of bacon. I wanted them to be about the same size as a chocolate chip and I think that size worked well. You could definitely use larger chunks to get more of a wow-factor just by looking at the cookies.
Two Years Ago: Spicy Sweet Pretzel Party Mix
Three Years Ago: Alton Brown's Overnight Cinnamon Rolls
Four Years Ago: Chocolate Cupcakes and Stuffed Chicken Burgers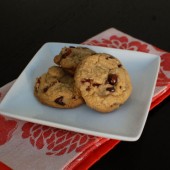 Candied Bacon Chocolate Chip Cookies
Bacon in chocolate chip cookies?!? It's seriously delicious.
Ingredients:
For the candied Bacon
6 slices thick-cut bacon
1/2 cup brown sugar
For the Cookies
2 1/4 cups flour
1/2 tsp baking soda
3/4 cup butter, melted
1/2 cup white sugar
1 cup brown sugar
1 Tbsp vanilla
1 egg
1 egg yolk
2 cups chocolate chips
Directions:
For the Bacon
Preheat oven to 350 degrees. Place bacon in a single layer on a foil lined sheet.
Sprinkle brown sugar on top of bacon strips. Bake for 18-25 minutes or until crispy, making sure to turn bacon over after 10 minutes.
Remove from oven and place on a wire rack for cooling. Once bacon has cooled chop it finely.
For the Cookies
Reduce oven temperature to 325 degrees.
Sift flour and baking soda.
In a medium bowl, cream butter with the white and brown sugar. Add vanilla, egg, and egg yolk to the bowl and beat until light and creamy. Add flour mixture and mix well.
Add diced candied bacon and chocolate chips and stir until just combined.
Place tablespoon sized balls of dough on a parchment lined cookie sheet and bake for 13-15 minutes or until edges are brown. Remove from oven and let cookies sit on the pan for a couple of minutes before placing on a wire rack.
10 Responses to "Cookie Dough Chocolate Ice Cream Cupcakes"
Leave a Comment