Best Dang Thing EVER Bars
My sister B was in town for the long weekend and we decided to spend her first day in town shopping all day. It's always a blast to shop with her because we both have very different tastes, but we get each other to try on things we never would otherwise. And we both always come home with a ton of bags. I usually take a picture of the stuffed trunk, but forgot to this year…
For the second day she was in town, we decided bake together. I love it when she comes to visit because we always have a great time. We talk almost daily and it's good to be able to talk to her in person instead of over the phone/email/texting. These bars are her favorite and she knows the recipe by heart. In fact, the whole family loves these things. What else would you expect with a name like Best Dang Thing Ever Bars!?!
I finally got the story out of B about where that name came from… When B was a freshmen in college, she had to give a speech that was a demo. Of course, she decided to demo making these bars. She ended the speech with something like "and that is how you make the best dang thing you've ever tasted bars". She even brought in some of the finished product to share with her class. Of course they agreed that these bars really are one of the best things you've ever tasted.
I'm not sure exactly where this recipe comes from, since my mom had clipped it out from a magazine or something and it was just in her pile of recipes since forever. We never made this when I was young, but ever since B went to college, we make these every year when we're together at the holidays. They're very rich and chocolatey, so we always cut them into small bars. Have a glass of milk ready when you serve these!
I am submitting this recipe for the blogging event Family Recipes hosted by The Life and Loves of Grumpy's Honeybunch and The Spiced Life. To enter, make a recipe that is a family recipe and talk about memories connected with it.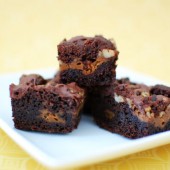 Best Dang Thing EVER bars
Ingredients:
1 package German chocolate cake mix
1/2 cup softened butter
1 egg
1/2 cup butter
1/2 cup evaporated milk
1 package (14 ounces) caramels
3/4 cup toasted chopped pecans
1/2 cup chocolate ready-to-spread frosting
3-4 tsp water
Directions:
Heat oven to 350.
Mix cake mix (dry), softened butter, and egg until crumbly; reserve 1 1/2 cups. Press remaining crumbly mixture in ungreased rectangular pan, 13x9x2 inches.
Bake until crust appears dry, 10 to 12 minutes; cool 10 minutes.
Heat butter, milk, and caramels over low heat, stirring occasionally, until caramels are melted. (We do this while the crumbly mixture is baking). Pour over crust; sprinkle with nuts and reserved crumbly mixture.
Bake until crumbly mixture appears dry and begins to brown, 25 to 30 minutes; cool.
Make glaze by mixing frosting with water one teaspoon at a time until desired consistency.
Drizzle with glaze. Loosen edges of bars with spatula; refrigerate until caramel mixture becomes firm, about 1 hour. Cut into bars, 2x1 1/2 inches.
Recipe from my family - no idea where the original recipe is from...
19 Responses to "Chocolate Bacon Cupcakes with Caramel Frosting"
Leave a Comment