Eggplant Parmesan
Today I'm featuring another recipe from Hubby's mother. Hubby loves eggplant parm. It's another one of the things his mom usually makes for us when we're in town because she knows how much he loves it. Recently, we requested the recipe from her and Hubby made it at home all by himself.
Hubby likes to claim this is a healthy recipe since it's vegetarian. I would not call this healthy, but it sure is delicious. Hubby used Panko bread crumbs because that's all I keep in the house. I really this they give a much better texture than regular bread crumbs. If you wanted, you could make this with meat sauce if you feel like it needs some meat. Eggplant is a very meaty vegetables, so I think it's fine without it.
This recipe also freezes really well. I wish I had thought of that back when we did our kitchen renovation and stocked up on frozen food. Since this makes a whole casserole dish, we ate it for leftovers all week. But if you don't like leftovers, just portion it out into individual tupperware containers and freeze it after it has cooled completely.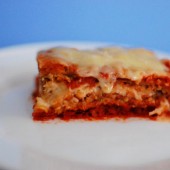 Eggplant Parmesan
Ingredients:
Sauce (1 large jar or homemade)
1.5 lb. eggplant, look for long slender firm eggplant
2 eggs, beaten
1.5 cups Panko cread crumbs, seasoned with salt and pepper
Cooking oil
1 lb. mozz shredded or thinly sliced
1/4 cup parmesan grated
Directions:
Preheat oven to 425.
Peel eggplant and slice about 1/4 inch thick. Dip into egg and let it drip off, then into bread crumbs. Set aside on a sheet of waxed paper.
Heat a jelly roll pan with enough oil to cover the bottom in the oven. When hot, add eggplant but see sure not to over-crowd the pan. Cook until nice and brown and crispy, then turn. Drain on paper towels.
Turn oven to 400.
Layer in a 13x9 baking dish 1/3 sauce, 1/2 eggplant, 1/2 mozzarella cheese, repeat, end with last 1/3 sauce. Sprinkle parmesan on top.
Bake uncovered for 15-20 min.
Check out my week of Family Favorites here.
7 Responses to "Pizza Dough"
Leave a Comment