Pumpkin Pie Snickerdoodle Bars
In case you haven't noticed, I've been obsessed with pumpkin this fall. I can't stop baking with it. Luckily, Hubby hasn't gotten sick of it yet. Although I doubt he'll be eating any pumpkin pie for Thanksgiving this year!
I saw these bars pop up and I knew I needed to make them. I took them to a retreat and they went over really well. I do think the snickerdoodle bar layer was a bit underbaked so maybe next time, I might prebake that layer for about 10 minutes? If you're looking for a treat to take into work or share on Thanksgiving that's a bit unique, I highly recommend this recipe. I had more than one person ask me for the recipe.
Another great thing about this recipe is that you can mix the multiple layers in the same bowl! I was a bit apprehensive about doing this (it was the OCD side of me that was apprehensive), but I decided to just go with it. So much easier than washing the bowl for my mixer mid-recipe!
Update: I have made these a few more times and baking the snickerdoodle layer first is definitely the right answer! I have updated the recipe below to reflect my changes.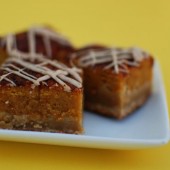 Pumpkin Snickerdoodle Bars
Ingredients:
Snickerdoodle Layer
3 cups all-purpose flour
2 teaspoons baking powder
1 teaspoon salt
2 cups packed brown sugar
1 cup butter, at room temperature
2 eggs, at room temperature
1 tablespoon vanilla extract
Pumpkin Pie Layer
1 cup all-purpose flour
1 cup white sugar
1 stick butter, at room temperature
1 teaspoons baking powder
1 teaspoons salt
1 teaspoon pumpkin pie spice
2 eggs, at room temperature
1 1/2 cups canned pumpkin
Topping
2 tablespoons white sugar
2 teaspoons cinnamon
Drizzle
1 oz white chocolate, chopped
1/4 teaspoon pumpkin pie spice
Directions:
Preheat oven to 350F. Lightly grease a 9x13 inch pan and lay a piece of parchment paper across the pan, so that it extends the pan slightly. The parchment paper is an optional step, but it will make it easier to get the bars out later
To make snickerdoodle layer
Sift together flour, baking powder and salt and set aside. In large bowl, beat together butter, sugar, egg and vanilla until smooth.
Stir in the flour mixture until well blended. Spread evenly in prepared pan (I got my hands wet to spread it because it was very thick).
To make pumpkin pie filling
In a mixer bowl (you can use the same one you used to make the snickerdoodle batter) with a paddle attachment, mix together butter and sugar. A dd the rest of the ingredients and mix until well combined. This layer will be less thick and more pourable. Pour over the snickerdoodle layer, smoothing out the top.
Combine white sugar and cinnamon in a little bowl. Evenly sprinkle cinnamon sugar mixture over the top of the batter.
Bake for 33-40 minutes (I baked for 34 minutes, and as I said, they could have used another 3-4 minutes) or until a toothpick inserted into the center of the pan comes out clean. Let the bars cool completely. They will deflate a bit and remain a bit pie-like on the top layer. The bars that are closer to the edges of the pan will be more firm.
After the bars are completely cool, place the chopped white chocolate into a bowl or zip-lock bag and melt on low power. When it's completely melted, add the pumpkin pie spice and mix (or knead if using a zip lock bag). Use a spoon or cut a small corner off the bag and drizzle the melted chocolate over the top of the bars and let it cool and harden.
Use the parchment paper to lift the bars out of the pan. Place on a cutting board and cut into bars. Store in a covered container.
2 Responses to "Ginger Pumpkin Cupcakes (Cupcake Hero)"
Leave a Comment