Baked Pork Chops with Parmesan-Sage Crust
Hubby and I love pork. Even though it's very easy to overcook it, when you get it right, it's amazing. I don't often make anything like this, but I'm glad I did. It's amazing. I double coated the pork with the bread crumbs because I like thicker breading. I also used Panko bread crumbs because I prefer the texture they provide. It's far more crunchy than regular bread crumbs.
You could definitely play with the flavors in the breading. The sage and parmesan was delicious, so I'd say start with that and the second, third, or fourth time you make it, try a different flavor profile. I know we'll be making this again and again.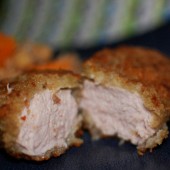 Baked Pork Chops with Parmesan-Sage Crust
Ingredients:
1 1/2 cups fresh breadcrumbs made from crustless French bread - I used Panko bread crumbs
1 cup freshly grated Parmesan (or Parmigiano-Reggiano)
1 tablespoon dried rubbed sage (or 2 to 3 tablespoons minced fresh sage leaves)
1 teaspoon grated lemon peel
2 large eggs
1/4 cup all purpose flour
4 bone-in center-cut pork loin chops (each about 1 inch thick)
2 tablespoons butter
2 tablespoons olive oil
Lemon wedges (optional)
Orange wedges (optional)
Directions:
Preheat oven to 425°F. Mix breadcrumbs, cheese, sage and lemon peel in pie dish. Whisk eggs in medium bowl to blend. Place flour on plate; season generously with salt and pepper. Coat pork chops on both sides with flour; shake off excess. Dip chops into eggs, then coat on both sides with breadcrumb mixture.
Melt butter with oil in heavy large ovenproof skillet over medium-high heat. Add pork chops to skillet and cook until golden brown, about 2 minutes per side. Transfer skillet with pork to oven (I double coated them - flour/egg/breadcrumbs/egg/breadcrumbs). Bake until pork chops are crisp on the outside and meat thermometer inserted into pork registers 150°F, about 20 minutes.
Transfer pork chops to plates. Garnish with lemon wedges and orange wedges, if desired, and serve.
7 Responses to "Raw Summer Vegetable "Pasta""
Leave a Comment