Seared Tuna Nicoise Salad
Today is a big day in the food world. As I'm sure you all know, today would have been Julia Child's 100th birthday! Julia has influenced many a chef, cookbook author, home cook, and food blogger. Some people remember growing up watching her on TV. My own experiences with Julia Child came later in life when I really started becoming interested in learning to cook.
When I was notified about joining the JC100 bloggers (you can find them on Twitter, Pinterest, and Tumblr too)  in preparing famous Julia Child recipes leading up to her 100th birthday, I was really excited to participate. Then life/work/summer got in the way. Every week I'd read the email with the new recipe and be shocked that another week had passed and I hadn't made any of the recipes yet.
So last weekend, I set out to make one of the JC100 recipes to post today in honor of Julia's birthday. While you all know, I generally lean towards desserts, this time, my decision was based on what I had in the house.
See, Hubby has been traveling a LOT for work. As in, gone for two weeks at a time. While living the "single" life can be fun, one of the hardest things has been eating all the CSA veggies by myself. When I look in the fridge, I see a bunch of delicious farm-fresh vegetables that I don't want to go to waste. The upside is that I'm eating vegetarian a lot which I really enjoy.
So when I saw the recipe for Nicoise salad, I knew it would be a great opportunity to use up some of that precious produce. Last week's CSA box came with red potatoes, purple green beans (which turned green when I blanched them), orange cherry tomatoes, and some red lettuce. The only thing missing was the eggs and the seafood!
While I was at the store, tuna steaks were on sale and seared tuna is much more appealing to me than canned tuna. Since I don't like olives or capers, I left those out of my salad.
There's no way this salad could have been bad. I mean, seared tuna? Delicious. Farm fresh produce? Amazing. Hard boiled eggs? Tasty on anything. And anchovies? Perfectly salty. So thanks Julia for this salad and for everything you have done for the cooking world.
One Year Ago: Cinnamon Rolls
Two Years Ago: Homemade Vanilla Extract and Family Favorites Cookbook
Three Years Ago: Boston Cupcake Crawl and Breakfast Pizza
Four Years Ago: Bacon Wrapped, Goat Cheese and Almond Stuffed Dates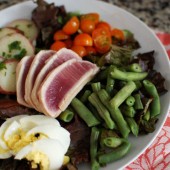 Seared Tuna Nicoise Salad
Nicoise salad is a classic French salad. I used seared tuna instead of canned.
Ingredients:
For the Seared Tuna
Two 5 oz tuna steaks
sea salt
For the Potato Salad
5 small-medium red potatoes
1 shallot, chopped
salt and pepper
1/4 cup chopped parsley
2 tsp olive oil
2 tsp white wine vinegar
For the Salad
Small head of lettuce
Green beans, blanched
~20 cherry tomatoes, cut in half, seasoned with sea salt
4 flat anchovy fillets, from a can packed in oil
3 hard boiled eggs, sliced
Olive oil
Juice of 1 lemon
Salt and Pepper
Directions:
For the Salad
The potato salad and green beans can be prepared in advance. Sear the tuna just prior to assembling the salad.
For the Potato Salad
Bring a large pot of salted water to boil. While water is heating, slice potatoes. Once water starts to boil, add potatoes and bring back to a boil.
Boil potatoes for 1 minute, then simmer for 10 minutes. Remove potato slices and place in a large bowl.
Add the remaining ingredients to the bowl and stir to combine. Allow to cool to room temperature.
For the Seared Tuna
Place a tsp of olive oil in a skillet. Use a paper tower to spread it around and then discard the paper towel. Heat skillet over medium high heat until very hot.
Sear tuna for 1 minute on top and bottom, 30 seconds on each of the sides. Remove tuna from pan and allow to rest 5 minutes.
Assemble the Salad
While the tuna is resting, assemble the salad.
Divide lettuce onto two plates. Arrange ingredients on plates in groupings around the perimeter of each plate.
Slice the seared tuna and fan out slices in the center of each plate.
Drizzle each plate with olive oil and the juice of 1/2 a lemon. Season with salt and pepper as needed.
5 Responses to "Salmon with Strawberry and Tomato Salsa"
Leave a Comment