Pumpkin and Ginger Beer Biscuits
I rarely make biscuits. They're really easy to throw together but I just don't think of it. I saw this recipe on Foodgawker and it caught my eye. Mostly because it had ginger beer in it.
I have been loving a good Dark and Stormy recently. The fizz and spice from the ginger beer is awesome. You can taste that same fizz and spice in these biscuits. (confession – I'm not sure that you can actually taste fizz, but Hubby and I both thought these biscuits tasted fizzy, so just go with it).
We snacked on these biscuits while they were still warm with some melted butter. They were perfect with subtle hints of pumpkin and the taste of ginger (and fizz).
One Year Ago: Brasato al Barolo (Beef Braised in Wine)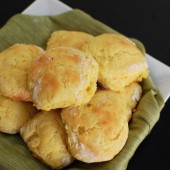 Pumpkin and Ginger Beer Biscuits
Ingredients:
1.5 cups flour
2 tsp baking powder
1/2 tsp salt
1/2 cup powdered sugar
2 tsp ground ginger
A pinch of fresh nutmeg
1/2 cup heavy cream
1/2 cup pumpkin puree
1/4 cup ginger beer
Milk, for brushing
Directions:
Preheat oven to 425F. Grease a 9x9 pan and set aside.
Sift flour, baking powder, salt, powdered sugar, nutmeg, and ginger together in a large mixing bowl. Form a well in the middle and add cream and pumpkin puree. Using a pastry cutter or a knife, begin to cut wet ingredients into dry ingredients. Gradually begin to add ginger beer until there is enough to form a soft dough. The mixture should hold together but not be sticky.
Working quickly and gently, gather dough together on a floured surface. Try to handle the dough as little as possible, using lightly floured hands to stop dough sticking to you, and pat the dough into a rectangle about 3/4 inch thick. You can lightly knead the dough with your hands but be sure not to overknead it.
Cut out rounds and place next to each other in the prepared baking pan. Brush tops with milk then bake for 12-15 minutes, or until scones are cooked through and golden on the top.
Remove from the oven and cool on a wire rack for 5 minutes, then cover with a tea towel until you are ready to serve. Serve warm with butter, or jam & cinnamon whipped cream.
31 Responses to "Pretzel Bites"
Leave a Comment