Crockpot Ham with Beer and Chutney Glaze – Secret Recipe Club
Have you heard of the Secret Recipe Club yet? Bloggers sign up to participate and then are randomly assigned to another blogger. You make something from that blog and everyone posts on the same day at the same time. It's a great opportunity to check out a new blog and try a new recipe.
I was assigned This Mama Cooks. I was excited to be assigned to a blog I had never seen before. I looked through the blog and had some ideas about what to make but then the month started slipping away from me. With vacation, recovery from vacation, and some other stuff going on, here I was only a couple days from the posting date and I still hadn't made anything from This Mama Cooks yet. I narrowed it down to a couple recipes and let Hubby choose.
I was secretly hoping that he'd pick the ham for a couple reasons. For one, we were on vacation for Easter and didn't get to have a traditional ham dinner, so I've been thinking about making a ham for a couple weeks. For two, it was something that I could make without a whole lot of fuss. And for three, it's something that will feed us all week (I love ham sandwiches!)
This recipe couldn't be any simpler and I loved the idea of making your own sauce for the ham instead of using the package of goo that comes with the ham. I let this guy cook on Saturday while Hubby and I were taking care of some chores around the house. We had a mini Easter dinner Saturday night and we both enjoyed this ham.
I enjoyed participating in Secret Recipe Club. Definitely check it out if you're interested in participating next month. Who knows, maybe I'll be making one of you recipes next!
One Year Ago: Homemade Oreos
Two Years Ago: Coconut Lime Cupcakes
Three Years Ago: Lactose Intolerant Friendly Mac and Cheese with Broccoli and Cauliflower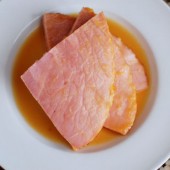 Crockpot Ham with Beer and Chutney Glaze
Ingredients:
One 5 to 6 pound fully cooked, spiral cut ham
1 jar mango chutney
3 tablespoons spicy or Dijon-style mustard
24 ounces of beer
Directions:
Trim off any excess fat. Place ham on a metal roasting rack or trivet in a 5-quart or larger crock pot or slow cooker. Cover and cook on LOW for 5 to 6 hours or on HIGH for 2 1/2 to 3 hours.
Remove tongs and metal rack from your slow cooker.
Pour off and discard pan juice.
Return ham to crock pot. If cooking on LOW, change setting to HIGH.
Place chutney in a small bowl. Stir in mustard and beer.
Pour chutney and beer mixture over ham into the crock pot. Cover and continue to cook for 30 minutes, basting every 5 minutes with the chutney and beer mixture.
Transfer ham to a warm carving platter or a cutting board. Cover with foil and keep warm with a clean dish towel. Let stand for 15 minutes before uncovering and slicing.
Spoon chutney and beer mixture over ham when serving.
Leave a Comment