Hot Cross Buns
Hot cross buns are the second recipe that Megan and I made together. The second they were mentioned, Megan said she definitely wanted to make them. I had honestly never had a hot cross bun until this year and they are apparently commonly serves on Good Friday (tomorrow).
You can use any dried fruit that you like in your buns. When I was grabbing all the ingredients for our baking date, I grab a variety package of dried fruit. It had dried peaches, apriocots, dates, and I'm not sure what else in it.
We went with a King Arthur Flour recipe and found their blog entry about this recipe to be very helpful. Since they include some step by step photos, we were definitely checking it out more than just the printout of the recipe that we had.
Mixing up this dough was odd for both of us. You literally throw everything into the bowl, then start your mixer. It was weird, but it worked.
Once the dough was ready to be shaped, Megan showed me a trick that she learned while working at Flour bakery about how to shape the dough balls so they wouldn't have any seams. It's really hard to describe, so we decided to use my Flip again to take a video of it. It's pretty quick, but hopefully it helps. I'm definitely going to try it out next time I'm shaping dough.
We used an ice cream scoop to portion out the dough and ended up with more buns than the recipe said we'd get. So they were a little crowded in the pan and rose into each other. This results in more square-shaped buns than pretty round buns, but that's ok.
The buns tasted like a sweet bread with fruit in them. The icing on the top added just the right amount of sugary goodness to the mix. I took these into work and my coworkers enjoyed them with their morning coffees.
One Year Ago: Raspberry Curd
Two Years Ago: Raspberry Cheesecake Swirl Brownies and Homemade Oreos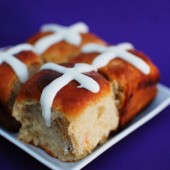 Hot Cross Buns
Ingredients:
For the Buns
1/4 cup rum (you can also use apple juice if you prefer)
1/2 cup mixed dried fruit
1/2 cup raisins or dried currants
1 1/4 cups milk, room temperature
2 eggs
1 egg yolk (reserve the white for the topping)
6 Tbsp butter, room temperature
2 tsp instant yeast
1/4 cup light brown sugar, firmly packed
1 tsp ground cinnamon
1/4 tsp ground cloves or allspice
1/4 tsp freshly ground nutmeg
1 3/4 tsp salt
1 Tbsp baking powder
4 1/2 cups flour
For the Topping
1 egg white, reserved from above
1 Tbsp milk
For the Icing
1 cup + 2 Tbsp powdered sugar
1/2 tsp vanilla
pinch of salt
4 tsp milk, or enough to make a thick, pipeable icing
Directions:
Lightly grease a 10" square pan or 9" x 13" pan.
Mix the rum or apple juice with the dried fruit and raisins, cover with plastic wrap, and microwave briefly, just till the fruit and liquid are very warm, and the plastic starts to "shrink wrap" itself over the top of the bowl. Set aside to cool to room temperature. Note: If you worry about using plastic wrap in your microwave, simply cover the bowl with a glass lid.
When the fruit is cool, mix together all of the dough ingredients except the fruit, and knead, using an electric mixer or bread machine, till the dough is soft and elastic. Mix in the fruit and any liquid not absorbed.
Let the dough rise for 1 hour, covered. It should become puffy, though may not double in bulk.
Divide the dough into billiard ball-sized pieces, about 3 3/4 ounces each. A heaped muffin scoop (about 1/3 cup) makes about the right portion. You'll make 12 to 14 buns. Use your greased hands to round them into balls. Arrange them in the prepared pan.
Cover the pan, and let the buns rise for 1 hour, or until they've puffed up and are touching one another. While the dough is rising, preheat the oven to 375°F.
Whisk together the reserved egg white and milk, and brush it over the buns.
Bake the buns for 20 minutes, until they're golden brown. Remove from the oven, and transfer to a rack to cool.
Mix together the icing ingredients, and when the buns are completely cool, pipe it in a cross shape atop each bun.

Don't forget about Bloggers Bake for Hope – Bloggers Bake. You Bid. 100% of proceeds go to Komen for a Cure. Register to bake by April 30th, come back for bidding May 4-6.

Leave a Comment