Friday Faves – Big Flavors From A Tiny Kitchen makes Thai Chickpea Soup
This week I'm featuring Ashley from Big Flavors From A Tiny Kitchen for my Friday Favs. I remember being really drawn into this blog due to the photography. As you can see, it's pretty amazing. One of my favorite things about Ashley's blog is the star rating that she provides. A simple scale of 1-5 tells readers how much she enjoyed the recipes she shares.
My name is Ashley and I've been blogging over at Big Flavors From A Tiny Kitchen since 2006. I started blogging because I needed a creative outlet outside of work, and I figured that we had to eat, so I might as well keep it interesting. I was an insanely picky eater as a child, and since I moved to New York, I've been experimenting with a lot of different types of cuisines and ingredients. I challenge myself to try foods that I would have been afraid to try as a kid, and it keeps things really interesting at the dinner table.
My blog features a wide range of food – a lot of vegetarian and vegan options, comfort food, various ethnic dishes (like Indian, Italian, Chinese, Persian and Thai), crockpot recipes and some repeated favorites. I cook a lot of healthy fare but am definitely not afraid to break out my deep fryer. I post everything that comes out of my kitchen – the good and the bad. Luckily, we've only had a few flops. My husband and I rate everything on a scale of 1 to 5 stars, and everything that gets a 5 also gets the "wow" tag. Today I'm going to share one of my most recent "wow" recipes.
This is the second recipe that I made from the Alice's Tea Cup cookbook, and it was fantastic! The flavor was a lot more complex than I was expecting it to be. The coconut milk added a nice creaminess to the soup, and even though it was a very broth-y soup, it was still filling. It was smooth and spicy, and the tangy lime juice finished it off really nicely. Every few bites, you get some chickpeas, which was a welcome bit of texture. We really loved this!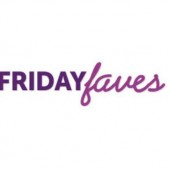 Thai Chickpea Soup
Ingredients:
2 tablespoons unsalted butter
1/4 cup minced jalapeño pepper
1/2 cup chopped celery (1 medium stalk)
3/4 cup chopped yellow onion (1 medium to large onion)
8 cups good-quality chicken stock (we recommend Imagine brand)
One 13.5-ounce can coconut milk
One 13.5-ounce can crushed tomatoes (we recommend Muir Glen)
1/4 cup freshly squeezed lime juice
Two 13.5-ounce cans chickpeas, drained
Kosher salt and freshly ground black pepper
Directions:
Heat the butter in a medium sauté pan over low heat. Add the jalapeños, celery, and onions, and sauté until the vegetables have softened, about 5 minutes (take care not to burn them).
Combine the vegetables with the stock, coconut milk, tomatoes, and lime juice in a large soup pot or dutch oven. Cover, and cook for 5 minutes, or until they are heated through. Add salt and peppers to taste, and serve.
Big Flavors Rating: 5 Stars

Be sure to check out all of my favorite bloggers as they are featured on Friday Favs!
One Response to "Friday Faves – The Novice Chef makes Churro Cake"
Leave a Comment