Pumpkin Cranberry Muffins
This week I'm going to be highlighting some pumpkin recipes. Similar to the cupcake week I did back in August, I'm kicking off A Week of Pumpkin. Be sure to check back every day this week for a new pumpkin recipe.
I've been out of the habit of making muffins. I used to do it on a weekly basis so Hubby and I would have something to take into work for breakfast. In honor of A Week of Pumpkin, I wanted to do at least one pumpkin muffin. I searched for a recipe and stumbled upon this one. I like the addition of the cranberries.
I opted to leave the struesel topping off. I'm not a big fan and the muffins were great without it. I did sprinkle some cinnamon sugar and some freshly ground nutmeg on top of the muffins prior to baking them. Hubby said these were the best muffins I've ever made!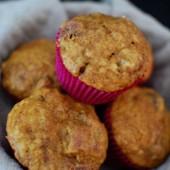 Pumpkin Streusel Cranberry Muffins
Ingredients:
1 1/2 cups all-purpose flour
1 teaspoon baking powder
1 cup canned solid-pack pumpkin
1/3 cup vegetable oil
2 large eggs
1/2 teaspoon cinnamon
1/4 teaspoon ginger
1/8 teaspoon ground cloves
1/8 teaspoon ground nutmeg
1 1/4 cups sugar
1/2 teaspoon baking soda
1/2 teaspoon salt
3/4 cup dried cranberries
For streusel topping
1/2 cup all-purpose flour
1 teaspoon ground cinnamon
1/8 teaspoon ground ginger
1/8 teaspoon ground cloves
1/8 teaspoon ground nutmeg
1/2 cup firmly packed light brown sugar
4 tablespoons (1/2 stick) unsalted butter, slightly softened and cut into 1/2-inch pieces
Directions:
Put oven in middle position and preheat oven to 350°F. Put liners in muffin cups.
For the streusel topping: in a medium bowl, stir together the flour, spices, and brown sugar. Add the butter pieces and combine the mixture with a fork until the topping resembles coarse crumbs. Set aside. (I skipped this step)
Mix the flour and baking powder together in a small bowl.
Whisk together pumpkin, oil, eggs, spices, 1 1/4 cups sugar, baking soda, and salt in a large bowl until smooth. Whisk in flour mixture and dried cranberries until just combined.
Divide batter among muffin cups (each should be about three-fourths full), then sprinkle tops with streusel mixture. Bake until puffed and golden brown and wooden pick or skewer inserted into the center of a muffin comes out clean, about 25 minutes.
Cool in pan on a rack five minutes, then transfer muffins from pan to rack and cool to warm or room temperature.
And don't forget about my Power of Pink Challenge going on all month.
Check out my week of pumpkin here.
Leave a Comment