Gingerbread Apple Upside Down Cake
Hubby and I have been hosting quite a few dinner parties since our kitchen is finished. It's nice to not be embarrassed to have people over because of our kitchen. For one of these dinner parties, I let Hubby choose the dessert. I gave him a few to choose from and he said he was in the mood for gingerbread. Hubby even offered to help by peeling and cutting the apples for me.
I didn't have a 10″ pan, so I used a 9″ pan. The cake didn't overflow, but you can see that I have a nice little foot on the bottom of my cake due to using a smaller pan and not adjusting the recipe. That's ok it was still amazing.
I must have cooked my caramel too long because it was not as gooey and flowy as the original pictures show on Smitten Kitchen. I served this at room temperature with some fresh whipped cream on top. Everyone really enjoyed it.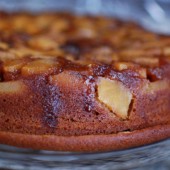 Gingerbread Apple Upside Down Cake
Ingredients:
For the Topping
4 tablespoons butter, plus extra for greasing pan
1/2 cup dark brown sugar
Pinch of salt
4 apples (about 1 3/4 pounds), peeled, cored and cut into 1/4-inch wedges
For the Batter
1/2 cup butter, at room temperature
1/2 cup sugar
1 large egg
1/3 cup dark molasses
1/3 cup honey
1 cup buttermilk
2 1/4 cups flour
1 teaspoon baking soda
1/2 teaspoon salt
1 teaspoon ground ginger
1 teaspoon cinnamon
Very softly whipped cream
Directions:
Make the Topping
Preheat the oven to 325°F. Grease a 10-inch cake pan. Melt butter in a small saucepan. Add brown sugar and simmer over moderate heat, stirring, four minutes, then swirl in salt. Remove from heat and pour into the bottom of your cake pan. Make circles of overlapping apple slices on top of the caramel. Chop any remaining slices and place them in the gaps.
Make the Batter
Using a mixer, blend 1/2 cup butter and the sugar on medium-low speed. Increase the speed to high and cream until light and fluffy.
In a medium bowl, whisk together the egg, molasses, honey and buttermilk. In a separate bowl, sift together the flour, baking soda, salt, ginger and cinnamon. Alternate mixing the flour and molasses mixtures into the butter mixture, adding the next once the last has been incorporated.
Pour the batter into the pan. Bake at least 45 to 50 minutes or until a wooden tester inserted into the center of the cake comes out clean. Let cool on a rack for 10 to 15 minutes, then turn out onto a platter.
Don't forget – I'm offering a chance to win a cute tote if you donate $5 or more to my Avon Walk by the end of January. See details here.
11 Responses to "Spice Apple Bars"
Leave a Comment