Puppy Chow
Puppy Chow is another family favorite that comes straight off the cereal box. There's no need to mess with this classic. It combines chocolate, peanut butter, and powdered sugar. What more could you ask for? And, as an added bonus, it's so easy to throw together and nobody can keep their hand out of the bowl!
I recommend using rice or corn chex for this recipe. They seem to be more airy. I've made Puppy Chow with wheat chex and it tastes fine, it's just a bit more dense.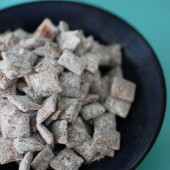 Puppy Chow
Ingredients:
9 cups Chex cereal
1 cup chocolate chips
1/2 cup peanut butter
1/4 cup butter
1 tsp vanilla
1 1/2 cups powdered sugar
Directions:
Into large bowl, measure cereal; set aside.
In 1-quart microwavable bowl, microwave chocolate chips, peanut butter and butter uncovered on High 1 minute; stir. Microwave about 30 seconds longer or until mixture can be stirred smooth. Stir in vanilla.
Pour mixture over cereal, stirring until evenly coated. Pour into 2-gallon resealable food-storage plastic bag.
Add powdered sugar. Seal bag; shake until well coated. Spread on waxed paper to cool. Store in airtight container in refrigerator.
4 Responses to "Smashed Chickpea Salad"
Leave a Comment