Lemon Blueberry Ice Cream Bars
As summer comes to a close and fall is right around the corner, I wanted to be sure to post this summer treat. I made these little guys to take on our vacation at the end of August. They're a great refreshing treat that will cool you down after being out in the sun all day. Everyone really enjoyed these and no one guessed that I made them dairy free so I could enjoy them too!
The recipe says to only put the blueberry compote on top of the ice cream, but I decided to put it on both sides of the ice cream and swirl it in. I'm glad I did. I love the look of the blueberry swirls!
I'll definitely be making these again next summer and plan to try a variety of flavor combinations. Tons of other fruits go with lemon and I'd even like to try different ice cream flavors as well. I would love to make them with a raspberry or strawberry compote and cheesecake flavored ice cream. One note though, when I make these again, I think I'd decrease the amount of ice cream in the bars. They are pretty thick, as you can see in the photos, and it's hard to bite all the way through a bar at once (if you notice though, the pictures on Gourmet don't make them look very thick…).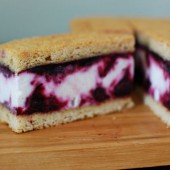 Lemon Ice Cream Sandwich Bars
Ingredients:
For Lemon Ice Cream
2 pints premium vanilla ice cream
1 Tbsp grated lemon zest
2 Tbsp fresh lemon juice
For Blueberry Compote
2 cups blueberries (10 ounces)
1/4 cup sugar
2 (3- by 21/2-inch) strips lemon zest
1 Tbsp fresh lemon juice
2 tsp cornstarch
For Sandwich Layers
1 cup flour
1/2 tsp baking powder
1/4 tsp baking soda
1/4 tsp salt
1 stick (4 oz or 8 Tbsp) unsalted butter, softened
3/4 cup packed light brown sugar
1 egg
1/2 tsp vanilla
Directions:
Make Lemon Ice Cream
Transfer ice cream to a microwave-safe bowl and microwave at 30 percent power in 10-second intervals, stirring, until softened, about 50 seconds total.
Stir in lemon zest and juice. Spread ice cream thinly in a 13- by 9-inch baking dish and freeze while making compote and sandwich layers.
Make Blueberry Compote
Cook blueberries, sugar, and zest in a 12-inch heavy skillet over medium-high heat, thoroughly crushing blueberries with a potato masher, until juices are released and sugar has dissolved, about 2 minutes.
Stir together lemon juice and cornstarch, then stir into blueberry mixture. Boil, stirring, 1 minute (mixture will thicken).
Transfer blueberry compote to a bowl and chill until cold, about 1 hour. Discard lemon zest.
Make Sandwich Layers while Compote Chills
Preheat oven to 375°F with rack in middle. Butter baking pans and line with foil, leaving a 1-inch overhang on each side, then butter foil.
Whisk together flour, baking powder, baking soda, and salt in a small bowl. Beat together butter and brown sugar in another bowl with an electric mixer at medium-high speed until pale and fluffy, about 3 minutes. Beat in egg and vanilla. At low speed, add flour mixture in 2 batches, mixing until just combined.
Divide batter between baking pans and spread into thin, even layers with offset spatula. Bake until golden-brown but still tender, 10 to 12 minutes. Cool completely in pans, about 30 minutes.
Assemble Sandwiches
Dollop tablespoons of blueberry compote all over ice cream, then swirl it gently through ice cream with a spoon. Spoon all of ice cream over 1 sandwich layer (in pan) and spread evenly using clean offset spatula (I dropped spoonfuls of the blueberry compote on the bottom cookie, then topped with all of the ice cream, then the rest of the compote on top of the ice cream. I then took a knife and swirled the blueberry compote and ice cream together). Invert second sandwich layer over ice cream, pressing gently to form an even sandwich. Wrap baking pan in plastic wrap and freeze until firm, at least 2 hours.
Transfer sandwich to a cutting board using overhang. Trim edges if desired, then cut into 8 pieces.
14 Responses to "Dairy Free Chocolate, Strawberry, and Vanilla Ice Cream Cupcakes"
Leave a Comment