Baking with Sprinkles for What's Baking
This month I had the opportunity to host the What's Baking group of bakers. For a theme, I decided to encourage everyone to bake or decorate a baked good with SPRINKLES! Woohoo – I love sprinkles and really don't use them frequently enough.
Be sure to check out these other bloggers and their sprinkle covered creations.
Kate from Kate's Recipe Box made Italian Easter Bread

Eva from Eva Bakes made Funfetti Cake Batter Fudge

Ange from The Tiny Tyrant's Kitchen made Irish Car Bomb Cupcakes

Coleen from The Redhead Baker made Birthday Cake Donuts

Alison from Sparks from the Kitchen made Pretty Pink Strawberry Sugar Cookies

Heather from Hezzi-D's Books and Cooks made Easter Bark

Cara from The Boys Made Me Do It made Cake Batter Pudding Cookies

Jenna from Jenna's Cooking Journey made S'More Peanut Butter Cookies

Joanna from Kosher Kitchen made Decadent Fudge Brownies with Glossy Fudge Frosting

Dawn from Simple Gourmet Cooking made Baked Chocolate Cake Doughnuts with Chocolate Glaze

Catherine from Pursueing Domestic Goddess-ness made Easter Basket Cookies

And last but not least, I made these Funfetti Chocolate Chip Cookies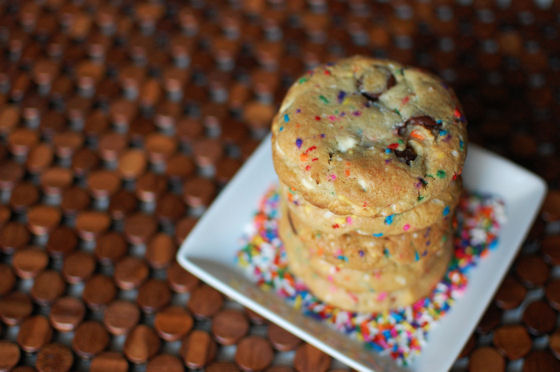 5 Responses to "Baking with Sprinkles for What's Baking"
Leave a Comment