Friday Faves – Made in Melissa's Kitchen makes Strawberry Rhubarb Crisp
Hey guys! It's Friday again and I'm really excited about the long holiday weekend we have ahead of ourselves. The weather here in Boston is supposed to be beautiful and I plan to spend lots of time outside. But before we can kick off the weekend, check out this week's feature for Friday Favs. Melissa from Made in Melissa's Kitchen posts great recipes, including a fair share of desserts. And I love the logo on her header – so cute with the mixer in the middle!
Hi Beantown Baker readers! My name is Melissa and I blog over at Made in Melissa's Kitchen. I started my food blog in 2008 as a way of keeping track of recipes, and also to share them with family and friends. I post a little bit of everything from appetizers to desserts, and from more complex recipes to recipes with two ingredients. I live with my family just north of Boston in New Hampshire, and am so honored to take part in Jen's Friday Fav's series!
I had a hard time choosing my what to post today, but went with this recipe for two reasons. The first one being that we are right in the middle of strawberry season in New England, and I know I am always looking for new recipes for those fresh strawberries! The second reason is that since it is 4th of July weekend, I am sure many of you will be having parties and cookouts, and this recipe is perfect for a crowd!
If you have never had or are unsure about the rhubarb, I would strongly encourage you to give this recipe a try anyway. The rhubarb blends right in with the strawberries, and the sweet, buttery, crunchy topping makes it a very delicious dessert.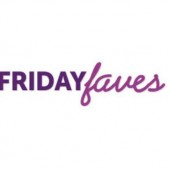 Strawberry Rhubarb Crisp
Ingredients:
1 cup white sugar
4 tablespoons all-purpose flour
5 cups sliced fresh strawberries
4 cups diced rhubarb
1 1/2 cups all-purpose flour
1 cup packed brown sugar
1 cup (2 sticks) cold butter, cut into small chunks
1 cup rolled or old fashioned oats
Preheat oven to 375 degrees F (190 degrees C)
Directions:
In a large bowl, mix white sugar, 4 tablespoons flour, strawberries, and rhubarb. Place the mixture in a 9x13 inch baking dish.
Mix 1 1/2 cups flour, brown sugar, and oats in a large bowl. Using a pastry blender or two knives, cut in the butter until the mixture resembles coarse crumbs. Spread topping evenly over strawberry and rhubarb mixture.
Bake 40-45 minutes in the preheated oven, or until crisp and lightly browned.
Serve warm with a big scoop of vanilla ice cream, or whipped cream.
Note: You may not use all of the crumb topping, depending on how much you like. I had a bit leftover that I sprinkled on top of some raspberry muffins. Also, this makes a big pan, but the crisp reheats well in the microwave.
Leave a Comment