Chocolate Chocolate Muffins and a Giveaway!
I was contacted earlier this year by Debby Maugans of
Small Batch Baking for Chocolate Lovers
. She asked if I'd be willing to review her cookbook and offered to give one away to a lucky reader as well. Life got in the way of me getting around to this until now, and I'm glad I finally found time to make a recipe from the cookbook.
Debby starts the book with an introduction to small batch baking, including details about the various equipment you may need. After that, her recipes are well laid out and easy to follow. In the middle of the cookbook, there is a spread of full color photos of some of the recipes in the book.
After perusing the cookbook multiple times, I had flagged quite a few recipes. I decided I wanted to highlight something chocolatey, since that's the whole point of the cookbook! I settled on these chocolate chocolate muffins because I had every thing on hand last weekend and wanted a tasty snack.
This recipe yielded 4 regular sized muffins (or 2 giant muffins) and it was the perfect afternoon snack for me and Hubby. I put the other two muffins into plastic bags and we each took one to work the next day as well.
As you can see, these muffins scream CHOCOLATE. The batter is chocolate and there's 1/2 cup of chocolate chips in there! That comes out to 2 Tbsp of chocolate chips per muffin! I used Ghirardelli bittersweet chips because they're my favorite. The hardest part about this recipe was waiting long enough for them to cool so I could bite into one!
Giveaway Rules:
To enter, leave a comment telling me what your favorite chocolate treat is
Entries must be submitted by midnight (EST) on Thursday, July 28th
Only one entry per person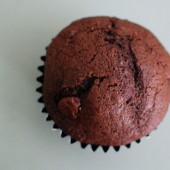 Chocolate Chocolate Muffins
Ingredients:
1/4 cup sugar
3 Tbsp butter, melted and cooled
3 Tbsp buttermilk
1/2 tsp vanilla
3 Tbsp well-beaten egg
1/3 cup + 3 Tbsp flour
1 Tbsp + 1 tsp cocoa powder
1/2 tsp baking powder
1/4 tsp baking soda
1/8 tsp salt
1/2 cup chocolate chips
Directions:
Preheat oven to 350. Line 4 muffin cups with liners. Set aside.
In a small bowl, whisk the sugar, butter, buttermilk, vanilla, and egg. Set aside.
Place a fine-mesh sieve over a medium bowl. Place the flour, cocoa powder, baking powder, baking soda, and salt in the sieve. Sift the ingredients into the bowl. Add the wet ingredients to the dry ingredients and mix until moistened.
Stir in the chocolate chips. Divide batter into prepared muffin tins. Bake for 15-18 minutes or until a toothpick inserted into the center of a muffin comes out clean.
7 Responses to "S'mores Fudge Bars"
Leave a Comment