Strawberry Margarita Pie
This frozen Strawberry Margarita Pie has all the flavors of the classic cocktail, including a kick from the tequila!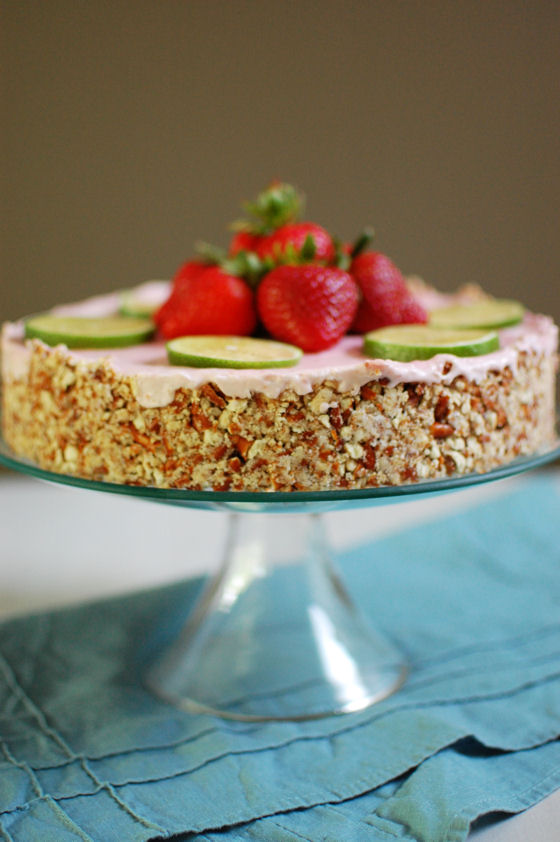 My mom was diagnosed with breast cancer in 2004. It was a shock to all of us and I witnessed a strength in my mother I had never seen before. After a mastectomy, intense chemotherapy and radiation therapy, she beat her cancer. Here we are nine years later and she's still going strong.
My mom's favorite cocktail is the frozen strawberry margarita. If we're out for dinner and she's drinking, it's always a frozen strawberry margarita. When I saw this Strawberry Margarita Pie recipe, it made me think of mom. She would absolutely love this pie.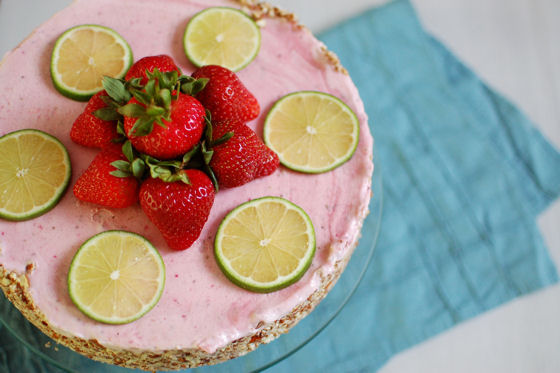 I made this for a dinner party at our friends house. There is enough tequila in the recipe that you get the distinct margarita flavor. One of the best things about this recipe is the fact that you can make it a couple days in advance and just throw it in the freezer to hang out until you're ready to serve it. I even threw the garnishes on prior to freezing it.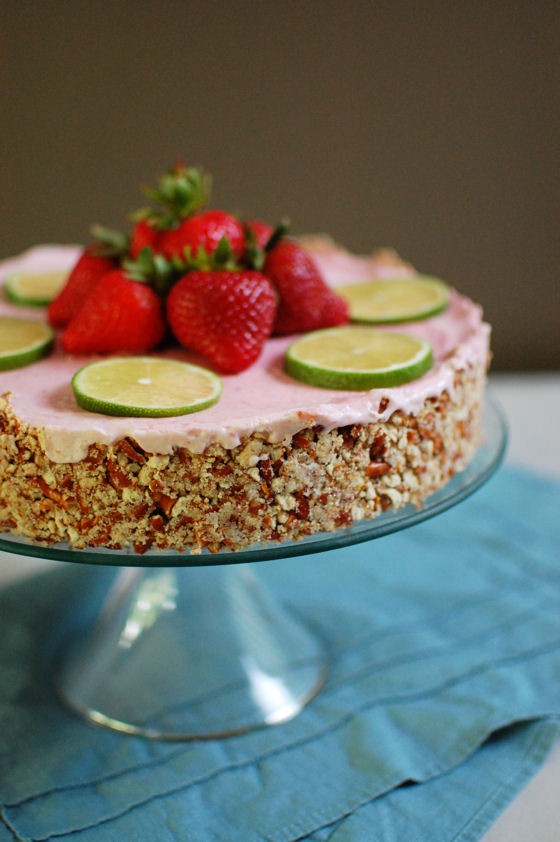 Everyone at the dinner party enjoyed this pie. My favorite part was the salty-sweet pretzel crust. It got a little crumbly when we cut slices out of the pie, but we just served the crumbly crust alongside each piece of pie.
This strawberry margarita pie is a boozy dessert that pairs well with anything you'd eat with a margarita. And if you're my mom, that's anything 🙂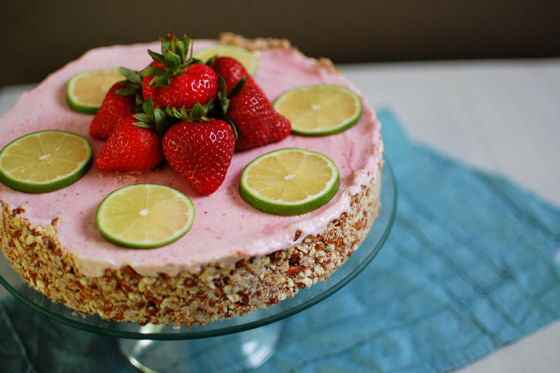 Don't forget about my Power of Pink Challenge! Make something PINK during the month of October to raise Breast Cancer Awareness and a chance to win a $100 donation to the charity of your choice.

One Year Ago: Shepard's Stew and Historic Boston Harbor Cruise
Two Years Ago: Homemade Cinnamon Applesauce
Three Years Ago: Garlic Naan and Chicken Tikka Masala
Five Years Ago: Tiramisu Cupcakes
Six Years Ago: Chicken sausage, spinach and mushroom pasta and Easy Lemon Cookies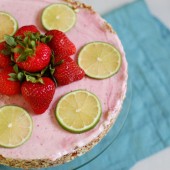 Strawberry Margarita Pie
This frozen Strawberry Margarita Pie has all the flavors of the classic cocktail, including a kick from the tequila!
Yield: 8-10 servings
Prep Time: 10 minutes
Cook Time: 4 hours
Ingredients:
For the Crust:
2 cups crushed pretzels
1/2 cup melted butter
1/3 cup sugar
For the Pie:
~1 pound strawberries
1 can sweetened condensed milk
1/2 cup tequila
juice of 2 limes
zest of 1 lime
1 Tbsp triple sec, optional
1 cup heavy cream
Directions:
For the Crust:
Preheat oven to 350 degF. Line the bottom of a 9" springform pan with parchment.
Combine ingredients in a small bowl. Press into the pan, using the bottom of a measuring cup if necessary.
Bake for 7-8 minutes, then cool completely.
For the Pie:
In a blender, puree all of the ingredients except the heavy cream.
Whip the cream with a mixer (or by hand), and fold in to the strawberry mixture.
Add more lime juice or tequila to suit your tastes. Remember that the more alcohol you add, the less frozen the pie will get.
Pour filling in to the cooled crust and freeze for several hours or overnight.
Prior to serving, garnish with lime slices and/or strawberries.