Blueberry Pie Bars
Note to self – freeze some blueberries ASAP while they're in season and bursting with flavor. That way I can bake up some delicious blueberry treats in the dead of winter when summer feels like an eternity away.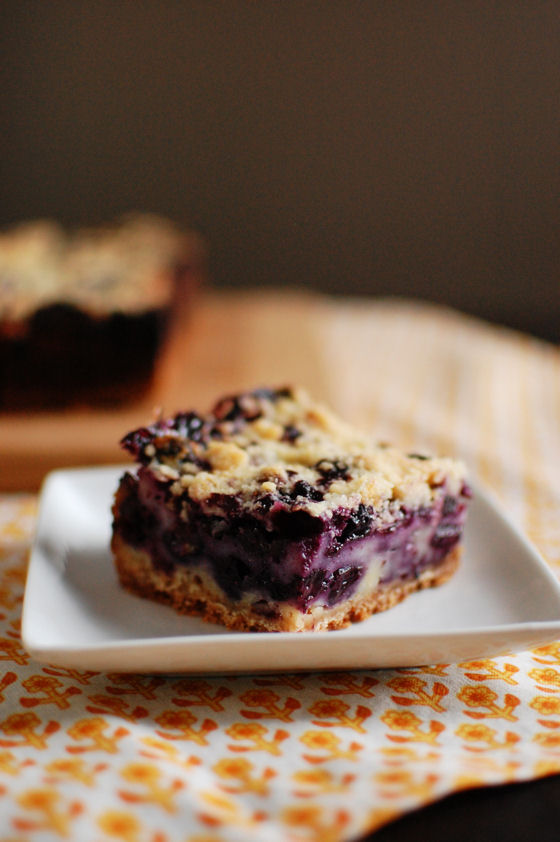 Or just continue to use the summer's bounty to make treats like these blueberry pie bars while summer is still here… We went to dinner at a friend's house late last week and I was in charge of bringing dessert. Since I would have to take this treat to work, then let it sit in my car through a work happy hour, I needed something portable and sturdy. And since my work week last week was insane, I needed something easy.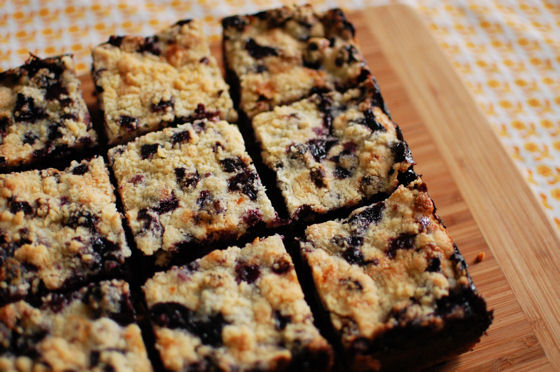 I looked back through my archives and decided to do something I rarely do. I remade a recipe. *gasp* I know. Food blogger fail. But I did swap out the sour cream for greek yogurt (a substitution I always make these days), decreased the sugar a bit since I was using super ripe produce, cut the recipe in half, and increased the baking time quite a bit.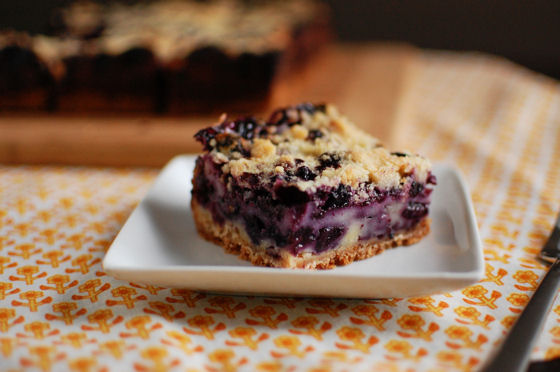 I remembered the last time I made these bars, they were a bit underbaked in the middle which is a big part of why I cut the recipe in half. That and the fact that there would only be 6 of us at dinner. The result of increasing the baking time yielded an almost caramelized crust and a more firm filling without burning. I also cut these bars fairly large this time, in to just 9 bars. Everyone enjoyed the near-pie-slice-sized pieces, which were served with some freshly whipped cream.
One Year Ago: Europe Trip Recap – Munich, Germany
Two Years Ago: Blueberry Cobbler Bars
Three Years Ago: Blueberry Rhubarb Pie and Homemade Hamburger Buns
Four Years Ago: Strawberry Rhubarb Bars and Vanilla Peach Bourbon Jam
Blueberry Pie Bars
All the flavor of a blueberry pie, but much more portable and easier to make
Yield: 9 large or 16 smaller bars
Ingredients:
Crust and Topping
1 1/2 cups flour
3/4 cup sugar
pinch salt
12 Tbsp unsalted butter, chilled
Fruit Filling
2 eggs
3/4 cup sugar
1/2 cup plain Greek yogurt
6 Tbsp flour
pinch salt
1/2 tsp vanilla
~3.5 cups fresh blueberries
Directions:
To make the crust and topping, preheat the oven to 350 degrees. Grease a 8x8 inch baking pan.
Combine the flour, sugar, and salt in a bowl. Cut the butter into 1/2-inch cubes, and add to the flour mixture. Use a pastry cutter to cut the butter into the flour mixture until the butter is evenly distributed but the mixture is still crumbly.
Reserve 3/4 cup of the mixture to use as the topping. Press the remaining mixture into the bottom of the pan, and bake 12-15 minutes. Cool for at least 10 minutes.
To make the filling, whisk the egg in a large bowl, then add the sugar, yogurt, flour, salt, and vanilla. Gently fold in the berries and spoon the mixture over the crust. Sprinkle the remaining flour mixture evenly over the filling, and bake 60-75 minutes until the top is starting to brown.
Cool at least 1 hour before cutting into bars, or scoop out of the pan to serve cobbler-style.
Leave a Comment