Brindille & Twig: Raglan Tee Pattern (#034)
For my friends in the US, please be sure to vote today!
After I had been sewing for a few months (mostly oneside dresses), I realized that I needed to learn how to sew knits. Babies live in stretchy knit fabric and using quilting cottons just wasn't cutting it. I signed up for a class at a local sewing shop, Sewn Studio (which has recently closed 🙁 ) to make a knit dress.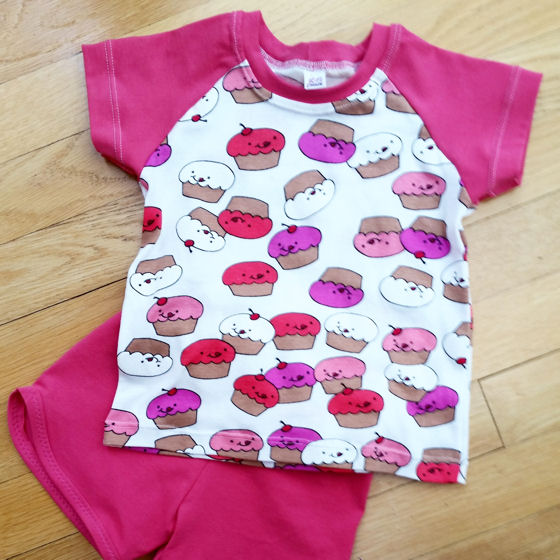 I learned some great basics about how to use a sewing machine to sew knits. There were only two of us in the class, so I got a lot of one-on-one attention from the teacher. The pattern used in the class was from Brindille & Twig and I instantly fell in love.
The B&T patterns are written in a tutorial format with photos along side each step. Since that first class just about 15 months ago, I have bought quite a few B&T patterns and they make up a lot of M's wardrobe these days.
I do find that the Brindille & Twig patterns tend to run a little large. I always size up the neckband at least 2 sizes because M has a huge head (90+ percentile). That first dress I made for her didn't have a sized up neckband and I couldn't get it over her head! So I just ripped off the neckband and sewed on the bigger one.
The Raglan T-shirt has the option to make a 3/4 length sleeve or a short sleeve. I'm getting ready to make 3-4 of these for her fall wardrobe with the longer sleeve option. These pictures are some of the ones she wore throughout the summer.
Check out the Brindille & Twig website, with my referral link, you can get 15% off your first purchase (and I get points!). You can also get this hoodie for free (which I have made a couple times). Here is the Raglan T-shirt pattern.
The only tweak I make to this pattern is to add some extra length to the bodice. M is a tall little girl with a longer torso and extra long legs! T-shirts fit her best with a little extra length added to them.
4 Responses to "Sewing for the holidays, already?"
Leave a Comment