Gingerbread Cake with Cream Cheese Frosting
Pomegranates are my favorite winter fruit. And I just can't get enough of them this winter. Now I realize that most people associate gingerbread with the holidays, but I like to think of it as a winter flavor. Similar to peppermint, I bake with these spices any time the weather is chilly.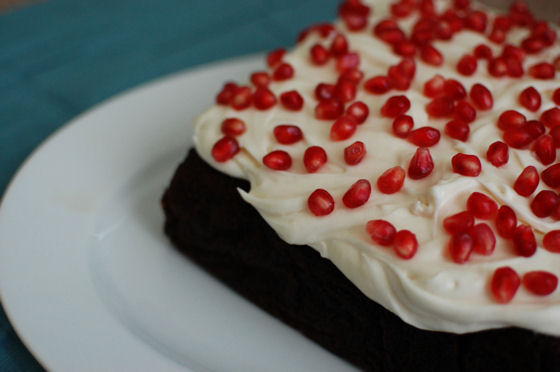 This dessert is everything you could hope for. The cake it spicy. Extra spicy. The orange zest provides a subtle scent. The frosting is smooth, creamy, and rich. And those pomegranate seeds – they absolutely make this cake. They give a little crunch and a burst of fruity juice like no other ingredient can. As you can see, I used a LOT of pomegranate seeds on my cake!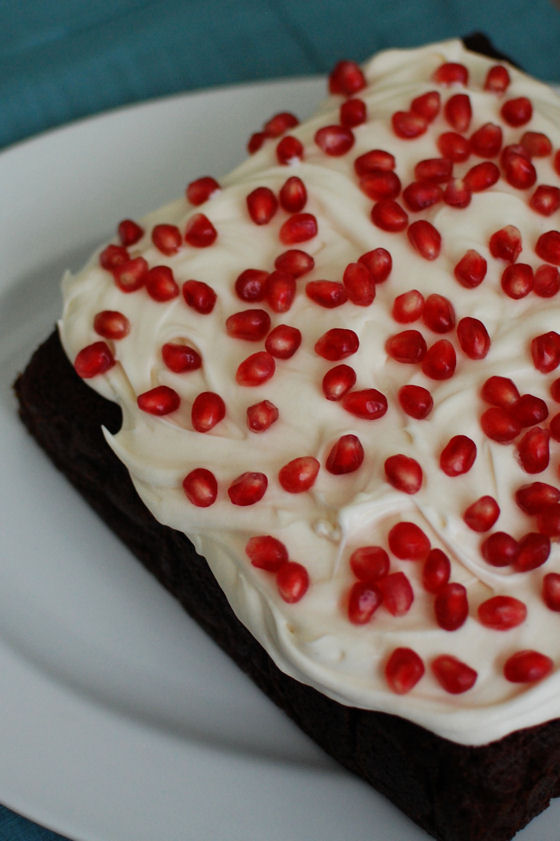 So feel free to save this recipe for the holidays, or do like me and throw the status quo out the window and make this whenever you feel like it!
One Year Ago: Candied Bacon Chocolate Chip Cookies and Black and Tan Brownies
Three Years Ago: Spicy Sweet Pretzel Party Mix
Four Years Ago: Alton Brown's Overnight Cinnamon Rolls
Five Years Ago: Chocolate Cupcakes and Stuffed Chicken Burgers
Gingerbread Cake with Cream Cheese Frosting
Ingredients:
For the cake
2 1/4 cups flour
2 tsp ginger
1 tsp cinnamon
1/4 tsp cloves
Dash of freshly-grated nutmeg
1 3/4 tsp baking soda
1/2 tsp salt
3/4 cup plus 2 Tbsp vegetable oil
3/4 cup sugar
2 large eggs
3/4 cup unsulphered molasses (not blackstrap)
1/4 cup honey
2 tsp orange zest
3/4 cup warm water
For the frosting
8 ounces cream cheese, chilled
1/2 cup (1 stick) unsalted butter, at room temperature
Big pinch of salt
2 cups powdered sugar
2 tsp vanilla extract
Pomegranate seeds from 1 pomegranate, for garnish
Directions:
Place a rack in the upper third of the oven and preheat oven to 350 degrees F. Grease an 8×8-inch square (or 9-inch round) baking pan. Line with parchment paper and grease the parchment paper. Set pan aside.
To make the cake, in a medium bowl, whisk together flour, spices, baking soda, and salt. Set aside. In a large bowl whisk together vegetable oil, sugar, and eggs until thick and pale. Stir in molasses, honey, and orange zest. Add the dry ingredients, all at once, to the wet ingredients. Stir together until entirely incorporated. Add the warm water and gently stir until entirely incorporated and the mixture is silky smooth.
Pour the batter into the prepared pan. If you find that the mixture fills the pan more than three-quarters of the way full, you might consider using a larger pan (a 9 or 10-inch pan may serve your better).
Bake cake for 35-45 minutes, or until a cake tester inserted into the center of the cake comes out clean. Allow cake to cool in the pan for 20 minutes. Using the edges of the parchment paper, remove and allow to cool completely on a wire rack before frosting the cake.
To make the frosting, in the bowl of an electric stand mixer fitted with a paddle attachment, blend the cream cheese on medium speed. The cream cheese should be as soft and smooth as possible. Stop the mixer and add the softened butter. Scrape down the sides of the bowl and beat the two together over medium speed until smooth and incorporated. Add one cup of powdered sugar. Blend on low until incorporated. Add remaining cup of powdered sugar and the vanilla on low until incorporated. Increase to medium high speed and beat until frosting is smooth and silky.
Frost the cooled cake and sprinkle with pomegranate seeds before serving.
This cake can be stored, in the refrigerator, for up to 3 days.
5 Responses to "Homemade Holiday Gifts 2013"
Leave a Comment