Brownies with Raspberry Frosting
Brownies are topped with a sweet Raspberry Frosting that gets it's pink color completely from the fruit!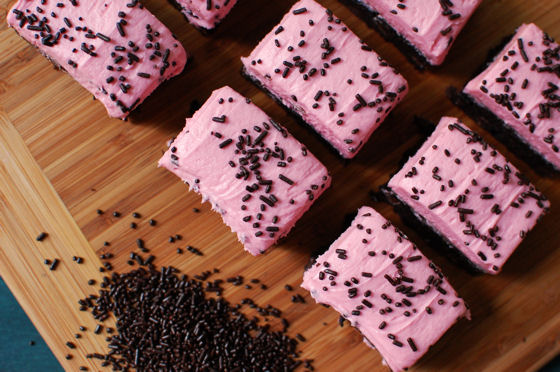 I don't know if I'll be able to do a FULL month of only pink foods this October, but I've definitely got quite a few pink recipes coming your way. I hope you enjoy them. I'm trying, once again, to make pink foods without food coloring. It can definitely be a challenge, but with so many red/pink berries out there, it's not too difficult. And don't forget the beets! I love beets and can't wait to share some awesome beet dishes with you guys this month.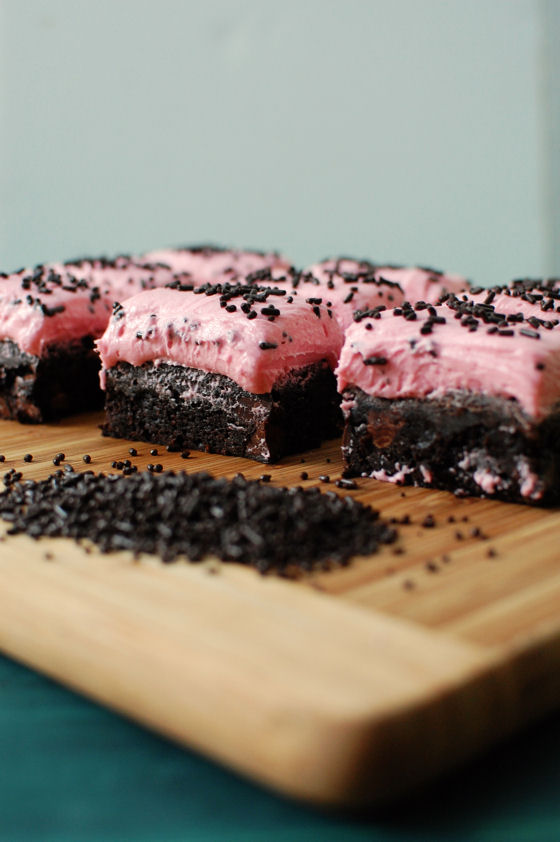 But I digress. My original plan was to make some chocolate cupcakes and top them with this pink raspberry frosting. But I filled my cupcake liners too full and they came out ugly. Delicious, but ugly. So I threw them in the freezer as I'm sure I'll find another use for them (maybe I'll throw them in some ice cream like I do with all my other leftover desserts).
It was late at night, I had already made the frosting, and I needed a treat to bring to work the next day for our monthly birthday celebration. So I threw a batch of brownies in the oven as my back-up plan. And honestly, I'm kind of glad the cupcakes didn't turn out. Because this frosting on my favorite brownies was RIDIC.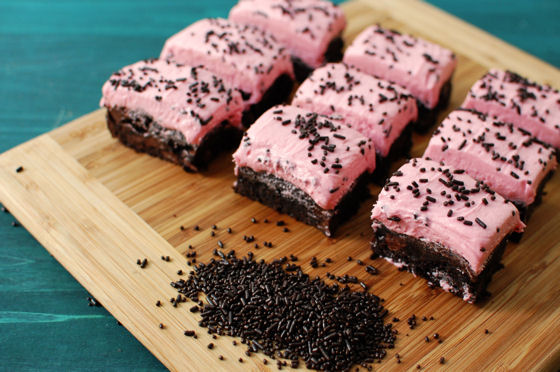 As you can see in the pictures, this recipe results in a decently thick layer of frosting on top of the brownies. You could cut the frosting recipe in half if you don't like as much frosting, but if you do that, I'm not sure we can be friends. I always swipe a taste here and there when I'm frosting something but I was literally eating this frosting by the spoonful. It's that good.
Fair warning though, it is kind of a pain to make. There's cooking and straining and more cooking, then chilling, and that's all before you even start creaming any butter. Have some patience and you'll be fine. You have to wait for the cupcakes or brownies to cool anyways. Believe me, it's worth the extra effort.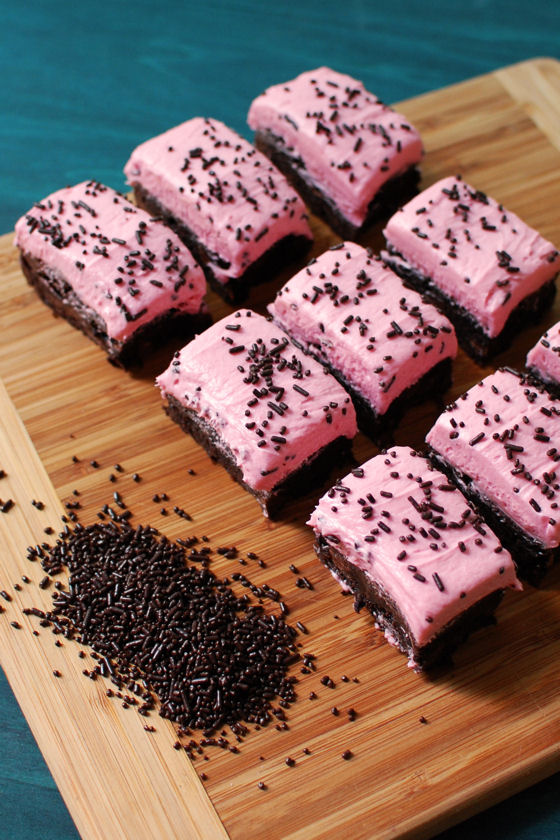 Don't forget about my Power of Pink Challenge! Make something PINK during the month of October to raise Breast Cancer Awareness and a chance to win a $100 donation to the charity of your choice.

One Year Ago: Banana Coconut Bread
Two Years Ago: Apple Crisp Pie and Turkey Veggie Burgers
Three Years Ago: Pizza Dough and Multi-Seed Crackerbread
Four Years Ago: Pumpkin Spice Cheesecake Brownies
Five Years Ago: Pumpkin White Chocolate Chip Cookies
Six Years Ago: The Cone Method and Steak and Salad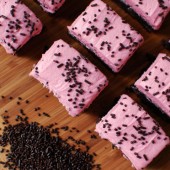 Raspberry Brownies
This recipe make a 9x13 pan of brownies. It can easily be cut in half and baked in an 8x8 or 9x9 square pan
Ingredients:
For the Brownies
1 batch of my favorite brownies (or any other 9x13 batch of brownies), completely cooled
For the Frosting
24 oz fresh raspberries
1 cup unsalted butter at room temperature
7 cups powdered sugar
4-6 Tbsp heavy cream
Directions:
For the Brownies
Bake brownies according to recipe and allow to completely cool. I let mine cool overnight.
For the Frosting
In a small saucepan, gently heat the raspberries and mash with a potato masher. Strain through a fine mesh strainer to remove all of the mush and seeds, and put the raspberry juice back into the saucepan over medium heat, simmering. Reduce by approximately half, or until about 1/2 cup of reduced raspberry syrup. Pour into a cool heat-safe container, and allow to cool to room temperature.
In a mixer, cream the butter and half of the powdered sugar. It will take several minutes for the sugar to absorb the butter and look mealy. When it does, add the raspberry juice and beat slowly to incorporate. Next, add in the second half of the sugar and continue to mix on low. Eventually, the frosting will come together and look like frosting, but you don't want it to be *too* stiff. Start by adding 4 Tbsp. heavy cream, and add more if the frosting is still too thick.
Brownie recipe from King Arthur Flour, Frosting recipe from pdx food love