Holiday Popcorn Bark
On a whim the other day, I bought a bag of Valentine's Day M&Ms. I love M&Ms. Especially dark chocolate ones. As I continued my grocery shopping, I was thinking about what I would do with the M&Ms. I decided to just set them in a bowl on my desk at work. A lot of my coworkers have candy dishes on their desk, so I figured why not. But then I got to thinking about it. A dish of M&Ms sitting on my desk could be really dangerous. That's a recipe for me eating 80% of the bag of M&Ms.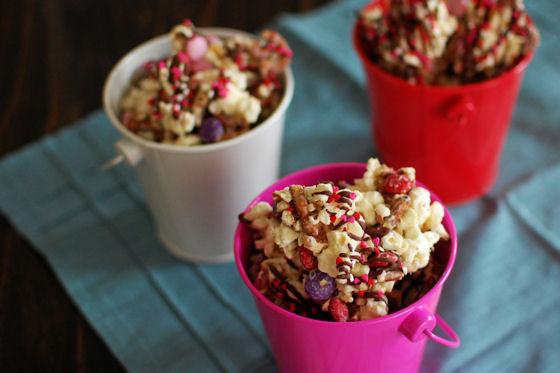 The next thought that came to mind was to whip up some White Chocolate Frito Popcorn. I decided against it since I had just recently made the Dorito Oreo Popcorn. I started looking through the cabinets to see what else I had on hand.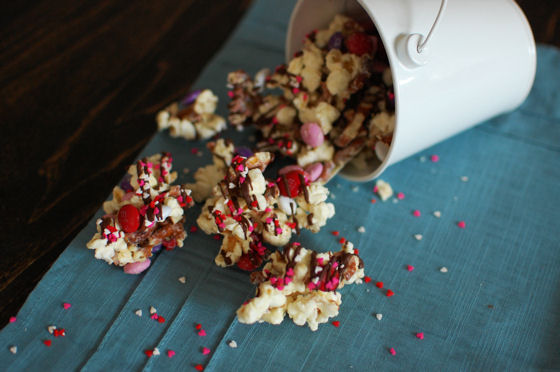 White chocolate? Check. Popcorn? Check. M&Ms? Check. Sprinkles? Check. I was just going to toss everything together and call it a day. But I really wanted something salty and crunchy in there. So I had Hubby grab some pretzels on his way home from his coffee run and voila – Holiday Popcorn Bark.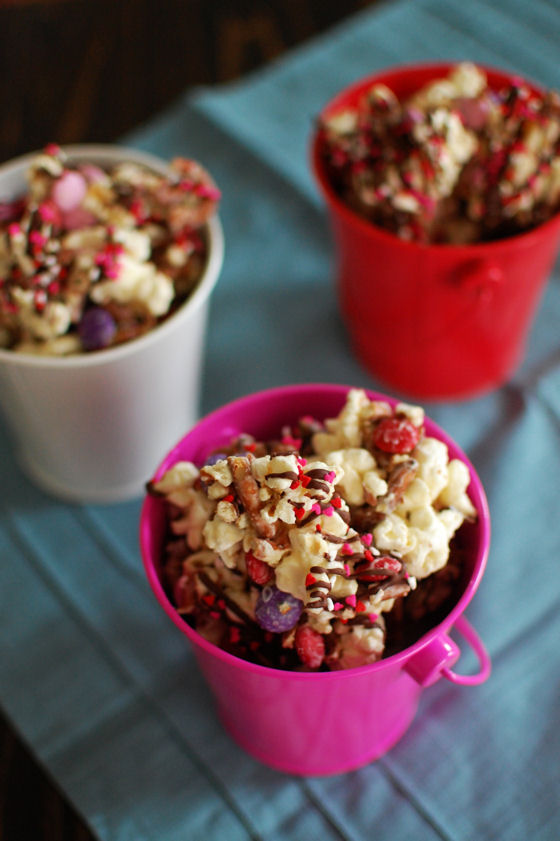 This recipe is obviously adaptable for any holiday. Just add some festive M&Ms and sprinkles for whatever holiday is right around the corner! It would also be perfect for a birthday using regular M&Ms and sprinkles! The options are endless.
One Year Ago: Peanut Butter Caramel Corn and Salted Caramel Sauce
Two Years Ago: Dulce de Leche in the Crockpot and Crunchy Nut Encrusted Chicken Tenders
Three Years Ago: M&M Cookies and BBQ Chicken Pizza Sticks
Four Years Ago: Vegan Chocolate Banana Caramel Cupcakes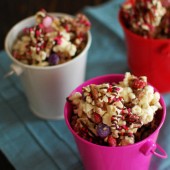 Holiday Popcorn Bark
This popcorn bark can be adapted to whichever holiday is coming around the corner
Ingredients:
10 cups of popped popcorn (1 bag microwave popcorn)
3 cups prezels, broken into pieces
8 oz white chocolate, chopped
1 1/2 cup M&M's
1/2 cup bittersweet chocolate
1/4 cup sprinkles
Directions:
Pop corn according to package directions.
Put popped corn and pretzel pieces into a large bowl. Make sure to get all of the unpopped kernels out.
Melt white chocolate in a microwave safe bowl in 30 second increments, stirring in between, until melted.
Pour melted chocolate over popcorn mixture and mix with your hands to coat completely. Pour onto a wax paper or parchment paper lined cookie sheet and sprinkle with M&Ms. Mix a little more to incorporate M&Ms.
Melt bittersweet chocolate in a microwave safe bowl in 30 second increments, stirring in between, until melted. Drizzle over popcorn bark. Sprinkle sprinkles over popcorn.
Allow to cool and break into large pieces.