Spiced Meat Rub
When I posted this Spice Rubbed Chicken a couple months ago, I am not sure that I emphasized how much we love this chicken. And the rub. It's a perfect combination of sweet and spice.
I mix up this rub in large quantities and keep it in my pantry. I might even give it as gifts this holiday season (shhh, it's our little secret!) I have even expanded the proteins that I use this rub on. It goes amazingly well with pork and I'd like to try it on tofu as well.
I just wish we had a grill so I could taste the awesomeness of this rub and meat that's been cooked on a grill…
One Year Ago: Golden Snitch Cake Pops
Two Years Ago: Chicken Gyros and French Silk Pie
Three Years Ago: Square Cake Balls and Buttermilk Cupcakes with Chocolate Swiss Meringue Buttercream
Four Years Ago: Monster Cookies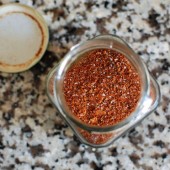 Spiced Meat Rub
Ingredients:
1/4 cup kosher salt
6 Tbsp brown sugar
1/4 cup chili powder
1/4 cup smoked paprika
4 tsp ground black pepper
1/2-1 tsp cayenne pepper
Directions:
To Make Spice Rub
Combine spices in a small jar. Screw on lid tightly. Shake until completely mixed.
Store in a cool dry cabinet.
To Use Spice Rub
Use 2 Tbsp of rub per pound of meat. Gently massage into meat and all to sit at least 2 hours, up to 3 days. Cook meat to your preference.
Recipe from Cooks Illustrated