Frosted Strawberry Sugar Cookies
These pink Frosted Strawberry Sugar Cookies are soft and pillowey with a distinct strawberry flavor.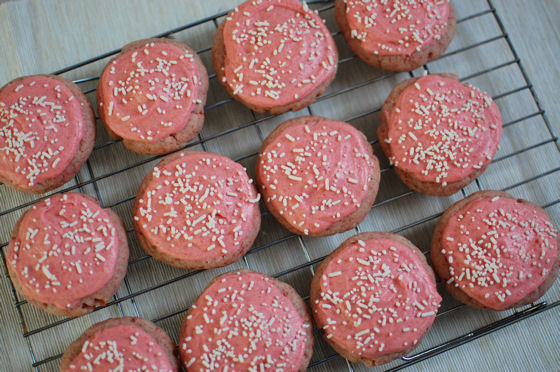 Long time no talk! It's been over two weeks since I've posted anything on here and even that post was written and scheduled back in September… October has been a BLUR of craziness, travel, and work. For those of you who follow me on Instagram, you may have pieced together how my month has gone…
I spent the first week in October at my alma mater, Purdue, to do some recruiting for work. Next up, Hubby and I headed to California for a beautiful wedding in Napa. While we were in Napa, my sister had her baby. But I couldn't get over to see them as soon as I wanted because we had good friends from NYC in town. That weekend consisted of some pumpkin beer tasting, fires in the firepit, and just general good times catching up with great friends.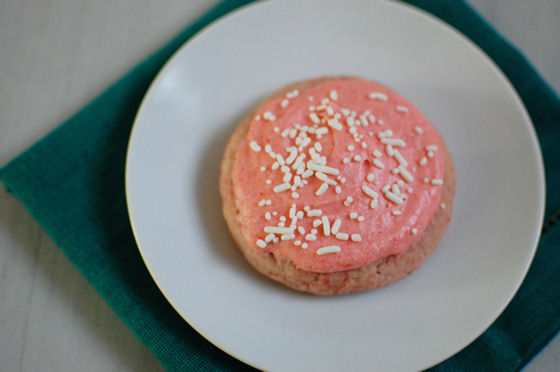 Then, I got to go spend 5 glorious days with my new nephew, cooking and baking tons of food for the new parents, and just enjoying a bunch of snuggling with a newborn. For those of you who know me, I'm the last person to have baby fever, but I tell you what, the smell of a newborn just might have given me a twinge of a desire to have one of my own… Just when you would think my month couldn't get any busier, Hubby and I hopped on another plane to head to Charlotte for the Avon Walk for Breast Cancer. It was Hubby's first time walking, and we had a BLAST! (recap post coming soon)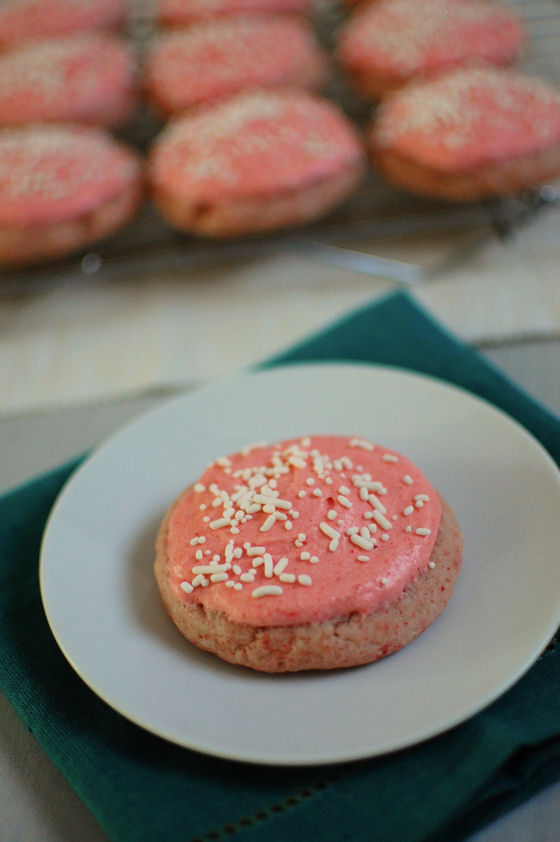 Through all of this traveling and time away from work, I thought I would have time to bring you guys more pink recipes in October. But I was distracted by the nostalgia of being back on campus, the allure of wine country, hanging out with a snuggly baby, and walking 40 miles… But I'm back now. And I have a couple more recipes to share this month. So get ready!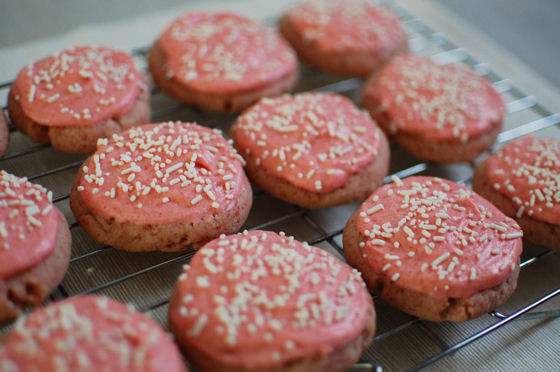 Not only are these cookies PINK without any food coloring, they're seriously addictive. I made them when we had friends over for dinner. And let's just say that the boys almost ruined their appetites by chowing down on 3-4 of these before dinner. They just couldn't control themselves. These cookies are similar in texture to these soft frosted sugar cookies, but with a distinct strawberry flavor. One of our friends said they almost felt like they had seeds in them, the strawberry flavor was so real.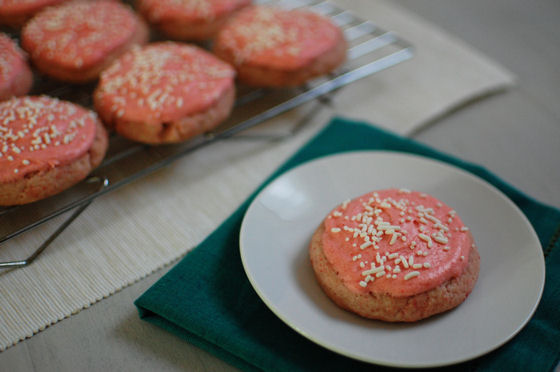 One thing to note – the cookies and frosting use freeze dried strawberries. Not dried strawberries. I had a major brain fart the first time I went to the store and grabbed dried strawberries. Which are great, just not what you need for the recipe. I was able to find freeze dried strawberries in my big-box grocery store near the dried fruit.
Don't forget about my Power of Pink Challenge! Make something PINK during the month of October to raise Breast Cancer Awareness and a chance to win a $100 donation to the charity of your choice.

One Year Ago: Pink Raspberry Marshmallows
Two Years Ago: Mashed Sweet Potatoes with Beets
Three Years Ago: Caramel Spiced Apple Pie
Four Years Ago: Calling all Alton Brown fans – a Giveaway
Five Years Ago: Peppery Lemon Brown Sugar Salmon
Six Years Ago: Banana Blueberry Muffins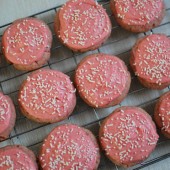 Frosted Strawberry Sugar Cookies
These pink Frosted Strawberry Sugar Cookies are soft and pillowey with a distinct strawberry flavor.
Ingredients:
For the Cookies
2 1/4 cups + 2 Tbsp cake flour
2 tsp cornstarch
1 1/2 tsp baking powder
1/4 tsp salt
1 cup (14 g) freeze dried strawberries
1/2 cup butter
1/4 cup unflavored shortening
1 cup sugar
1 egg
1 egg white
1 tsp vanilla
pink gel food coloring, optional (I omitted)
For the Strawberry Frosting
1/3 cup butter, softened
1/3 cup (5 g) freeze dried strawberries
3 Tbsp fresh strawberry puree (from about 3/4 cup fresh)
1 tsp fresh lime or lemon juice
1/2 tsp vanilla
2 1/2 cups powdered sugar
Directions:
For the Cookies
In a mixing bowl, whisk together cake flour, cornstarch, baking powder and salt for 30 seconds.
Add 1 cup freeze dried strawberries to a food processor and pulse until ground into a fine powder. Sift ground strawberries through a fine mesh strainer (to remove seeds and the few small pieces remaining) into the flour mixture and whisk to combine.
*Optional - while the food processor is out and dirty, go ahead and process the 1/3 cup of freeze-dried strawberries for the frosting. Sift into a small bowl and reserve for later.
In the bowl of an electric stand mixer fitted with the paddle attachment, whip butter, shortening and sugar on medium speed until very pale and fluffy, about 4 minutes.
Mix in egg, then mix in egg white and vanilla. Blend in food coloring if desired (I did not use food coloring).
With mixer set on low speed, slowly add in dry ingredients and mix just until combined.
Transfer dough to an airtight container and refrigerate 2 hours.
Preheat oven to 375 during the last 10 minutes of refrigeration. Line two cookie sheets with parchment or a Silpat. Lightly flow the parchment or Silpat.
Scoop dough out about 3 Tbsp (50 g each) at a time and roll into a ball. Sprinkle top of cookie dough lightly with flour, then using something flat and smooth (such as a glass), press and evenly flatten dough to about 1/3-inch thick.
Bake in preheated oven 8-9 minutes. Allow to cool 2 minutes on baking sheet before transferring to a wire rack to cool. Cool completely then frost with Strawberry Frosting.
For the Strawberry Frosting
In the bowl of an electric stand mixer, fitted with the paddle attachment, whip butter until pale and fluffy.
Meanwhile, pulse 1/3 cup freeze dried strawberries in the food processor until finely ground. Using a fine mesh strainer to remove seeds, sift freeze dried strawberries over butter and mix to combined.
Stir in 3 Tbsp fresh strawberry puree, lime or lemon juice and vanilla extract (mixture will look separated and that's okay).
Slowly mix in powdered sugar and whip until well combined.