Vanilla Spiced Applesauce
This year I am welcoming this crisp cooler air with open arms. I just pulled out my box of sweaters and sweatshirts this weekend and have been rocking a hoodie all weekend long. One of the things Hubby and I do every year to ring in the new season is to go apple picking. It's become a tradition to do this with my brother and his family.
We're lucky enough to live about 30 miles form my brother. The rest of my family is out in the Midwest where I grew up. Every year, they bring their kids and it's fun to look back at last year's apple picking adventure to see how my little niece and nephew have grown.
After we got home with our bag of apples, Hubby made his first request of the season for applesauce. He loves homemade applesauce and I tend to only make it in the fall. My favorite recipe to make is this Cranberry Applesauce but I was in the mood to mix things up this time around. I had a few vanilla beans in the cabinet and decided to make this Vanilla Spiced Applesauce.
Hubby enjoyed the flavor and I loved the little black specks. Vanilla beans are probably one of my favorite ingredients out there.
One Year Ago: Homemade Cinnamon Applesauce
Two Years Ago: Chicken Tikka Masala
Four Years Ago: Tiramisu Cupcakes
Five Years Ago: The Cone Method and Mussels

Don't forget about my Power of Pink Challenge – make something PINK by the end of the month to raise Breast Cancer Awareness!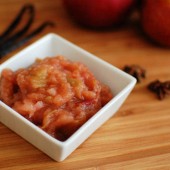 Vanilla Spiced Applesauce
Homemade applesauce spiced with vanilla beans, anise, and cardamom.
Ingredients:
8 apples, diced into large chunks
3 vanilla beans
2 whole star anise
1 Tbsp cinnamon
1/4 tsp cardamom
1 cup water
1/4 cup brown sugar
Directions:
Place the apples in the bottom of a dutch oven or large pan.
Slice the vanilla pods in half lengthwise. Scrape the seeds from the pods with the back of a knife. Place seeds and pods in pan.
Add remaining ingredients and set over medium-high heat until the water starts to boil.
Stir applesauce mixture, cover, and reduce heat to medium-low. Allow to simmer for 20 minutes until apples have broken apart. Use a potato masher to help mash the apples if you'd like.
Allow applesauce to cool and remove star anise pods and vanilla bean pods.