Butternut Squash, Goat Cheese, and Walnut Dip
Butternut squash is one of my favorite fall ingredients. I love using it so much that I actually created a squash tag for my blog. There's a lot of good stuff in there.
You might notice a trend that most butternut squash recipes also feature goat cheese. I'm not sure what it is about that combination, but the pair so nicely together. It has to be the sweetness from the squash and the tanginess from the cheese.
I made this dip for a get-together with friends after getting a HUGE butternut squash in our CSA box one week. I had roasted the squash ahead of time and used it in a variety of recipes.
I did have to process this in the blender for quite some time to yield the super smooth texture that I was hoping for. If you wanted it more chunky, you could definitely leave it that way.
One Year Ago: Levain Bakery Chocolate Chip Walnut Cookies and Fire Roasted Tomato Soup with Roasted Chickpeas
Two Years Ago: Banana Cinnamon Chip Blondies
Three Years Ago: Baked Pork Chops with Parmesan-Sage Crust
Four Years Ago: Butternut Squash Soup in Crockpot and Shipping Cupcakes in a Jar
Five Years Ago: Goat Cheese Stuffed Chicken and Pumpkin Cookies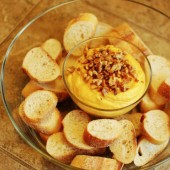 Butternut Squash, Goat Cheese, and Walnut Dip
Ingredients:
1 medium butternut squash, (about 1.5 lbs)
cooking spray
1 head garlic
2 Tbsp lemon juice
1/2 tsp salt
3 oz goat cheese
1/4 cup walnuts, chopped
36 slices french bread baguette, 1/2 inch thick, toasted
Directions:
Preheat to 400.
Cut squash in 1/2 lengthwise, discard seeds.
Put squash cut side down on foil-lined jelly roll pan coated with cooking spray.
Remove papery skin from garlic but do not peel or separate cloves. wrap in foil. put on pan with squash. Bake at 400 for 30 min until squash is tender. scoop out pulp & discard skin. separate garlic cloves, squeeze to extract pulp, discard skins.
Place squash, garlic, salt & juice & cheese in food processor & process til smooth. spoon into bowl & sprinkle with nuts. serve with baguette slices.