French Toast Bread Pudding and a Giveaway
I'm a BIG fan of French toast. It's just so comforting and delicious. Imagine taking the flavors of French toast and putting them into another comfort food – bread pudding. That's what this recipe does.
I had the opportunity to go to an event a Panera a couple weeks ago. I got to taste their new steak sandwich and salad. Both were really good. I also had the opportunity to meeet some great people who work at Panera and Childrens Hospital Boston. You might be wondering how the two are related. Well, right now, select Boston area Panera cafes are donating a percentage of the proceeds from the Easter egg cookie sales to Children's Hospital Boston.
After spending the evening with the folks at Panera, I decided I wanted to try one of their recipes found on myPanera.com. I grabbed a couple French toast bagels to make this bread pudding.
The lovely people at Panera have offered a giveaway so you can head into Panera and get your favorite lunch or try the new steak sandwich. To win the $15 gift certificate, just leave a comment before 12 noon (EST) on Wednesday April 6th letting me know what your go-to Panera order is. I always get the Pick-2 with the Turkey Bravo sandwich and the Ceasar salad. It always hits the spot.
One Year Ago: Homemade "Instant" Pancake Mix and Make Ahead Breakfast Burritos
Two Years Ago: Cinnamon Biscuits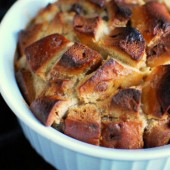 French Toast Bread Pudding
Ingredients:
2 Panera Bread French Toast Bagels, cut into bite-size pieces
3/4 cup raisins (optional)
4 eggs
3/4 cup brown sugar
1 tsp vanilla
1 tsp ground cinnamon
1/2 tsp freshly grated nutmeg
1/2 tsp salt
2 cups milk
1 cup half-and-half
Grated zest of a 1/2 orange
Directions:
Preheat oven to 350ºF. Coat a 2-quart baking dish or eight 6- to 8-ounce ramekins with cooking spray and set the dish or ramekins on a rimmed baking sheet. Put bagel pieces in baking dish or ramekins in an even layer. If using raisins, scatter on top.
In a large bowl, whisk together eggs, brown sugar, vanilla, cinnamon, nutmeg, and salt until blended. Whisk in milk, half-and-half, and orange zest.
Pour egg mixture over bagel pieces, then press down with a spatula until completely coated. Let stand at room temperature for 30 minutes, pressing down now and then to saturate bagel pieces.
Put baking sheet with the baking dish or ramekins in the oven, then pour very hot tap water into the baking sheet to about 1/4 inch up the sides of the baking dish or ramekins.
Bake until pudding is just set in the center, 60 to 75 minutes for the baking dish or 35 to 45 minutes for ramekins. Remove and let cool until warm to the touch.