Brined and Roasted Turkey
Brining a turkey ensures full flavor and juiciness. It only requires a few extra steps and the payoff is well worth it!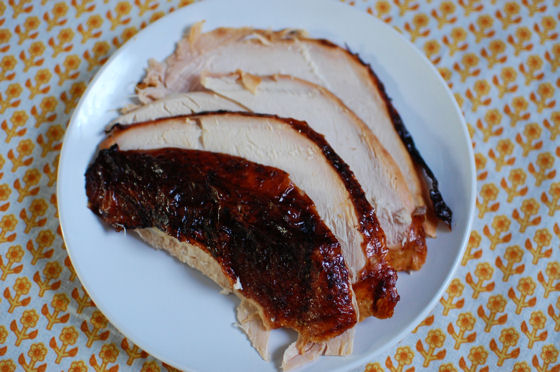 Turkey. It's an obvious choice when it comes to planning a Thanksgiving menu. I mean, can you imagine Thanksgiving without it?!? Blasphomy! But there are a variety of ways in which you can prepare a turkey. You can fry it, roast it, cover it in bacon and roast it, stuff it, leave the stuffing outside the bird, the options are endless.
When I roasted my first turkey a couple years ago, I turned to my cooking hero, Alton Brown, for the recipe. For those of you who me on Instagram, you'll remember that I just saw AB again recently. I have met him before, at a book signing in Boston, and when I found out he was touring this year, I knew I had to go. The best way to describe his show was that it was a variety show which consisted of AB doing things he loves. Cooking demos on huge scales. Singing original songs about food (including a song about dry pork chops and one about Easy Bake ovens). And yeast puppets burping. And farting. The show was awesome, and I'd love to see it again. If you have the chance, I highly recommend it.
But back to the turkey. A couple years ago, Hubby and I weren't traveling for Thanksgiving so we did a mini Thanksgiving meal for the two of us. Alton Brown's cookbooks are a constant reference for us and that's where we turned to find a recipe. His brined and roasted turkey comes out perfectly every time. Instead of using a cooler, we simply buy one of the huge ziplock bags that are intended to hold sweaters under your bed and pour the brine in the giant bag. Then put the turkey in the bag, seal it up, and store in the fridge. It works like a charm every time. Obviously you can use a cooler if you want, but we found this method easier.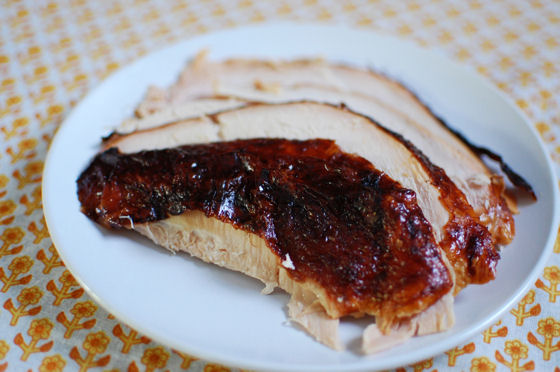 If you're still searching for the perfect turkey recipe, or if you have one but you're not in love with it, I highly recommend this one. There's a reason it's the most reviewed, most viewed, most popular recipe on the Food Network website. To watch AB make this recipe, check out the Good Eats video here.
Brined and Roasted Turkey
Brining a turkey ensures full flavor and juiciness. It only requires a few extra steps and the payoff is well worth it!
Ingredients:
1 (14 to 16 pound) frozen young turkey
For the Brine
1 cup kosher salt
1/2 cup light brown sugar
1 gallon vegetable stock
1 Tbsp black peppercorns
1 1/2 tsp allspice berries
1 1/2 tsp chopped candied ginger
1 gallon heavily iced water
For the Aromatics
1 red apple, sliced
1/2 onion, sliced
1 cinnamon stick
1 cup water
4 sprigs rosemary
6 leaves sage
Canola oil
Directions:
2 to 3 days before Roasting
Begin thawing the turkey in the refrigerator or in a cooler kept at 38 degrees F.
Combine the vegetable stock, salt, brown sugar, peppercorns, allspice berries, and candied ginger in a large stockpot over medium-high heat. Stir occasionally to dissolve solids and bring to a boil. Then remove the brine from the heat, cool to room temperature, and refrigerate.
Early on the day or the night before you'd like to eat
Combine the brine, water and ice in the 5-gallon bucket. Place the thawed turkey (with innards removed) breast side down in brine. If necessary, weigh down the bird to ensure it is fully immersed, cover, and refrigerate or set in cool area for 8 to 16 hours, turning the bird once half way through brining.
Preheat the oven to 500 degrees F. Remove the bird from brine and rinse inside and out with cold water. Discard the brine.
Place the bird on roasting rack inside a half sheet pan and pat dry with paper towels.
Combine the apple, onion, cinnamon stick, and 1 cup of water in a microwave safe dish and microwave on high for 5 minutes. Add steeped aromatics to the turkey's cavity along with the rosemary and sage. Tuck the wings underneath the bird and coat the skin liberally with canola oil.
Roast the turkey on lowest level of the oven at 500 degrees F for 30 minutes. Insert a probe thermometer into thickest part of the breast and reduce the oven temperature to 350 degrees F. Set the thermometer alarm (if available) to 161 degrees F. A 14 to 16 pound bird should require a total of 2 to 2 1/2 hours of roasting. Let the turkey rest, loosely covered with foil or a large mixing bowl for 15 minutes before carving.
6 Responses to "Lamb and Guinness Stew"
Leave a Comment