Maraschino Cherry White Chocolate Chip Cookies
Hubby and I were back in Boston last weekend to be there for the movers to get everything out of our condo and to hang out with friends. Once the movers took everything away, our condo was completely empty and we had no where to sleep. After walking out the door of our building for the last time, we headed over to our friends Katie and Adam's place. They offered us their lovely air mattress to us for the rest of the weekend.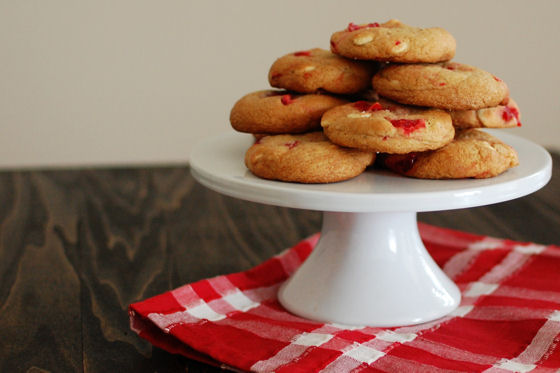 It was definitely sad leaving that place for the last time (for real this time). When we left in December, it didn't really feel final since we were leaving stuff in the condo and knew we would definitely be coming back at some point. We left it furnished so it would show well. And I guess it paid off since we sold our condo in no time at all!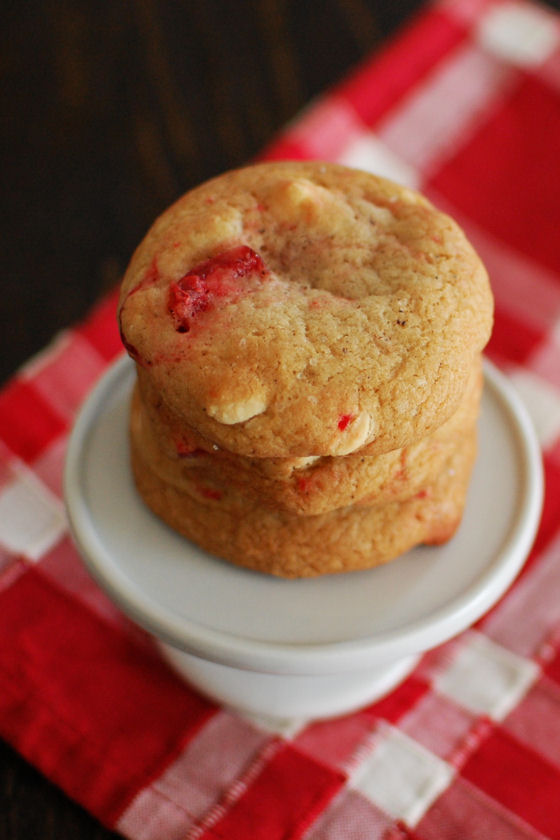 Since I knew we were going to be staying with K&A, I wanted to make something to thank them. My mind went straight to cookies, like it always does. In this case cookies was the right answer. I was able to make them ahead of time and freeze them. Then I threw them in my suitcase for the flight out to Boston. Katie is a HUGE fan of maraschino cherries. She always asks for extras in her drinks and will take one off your hands if you're not that into them.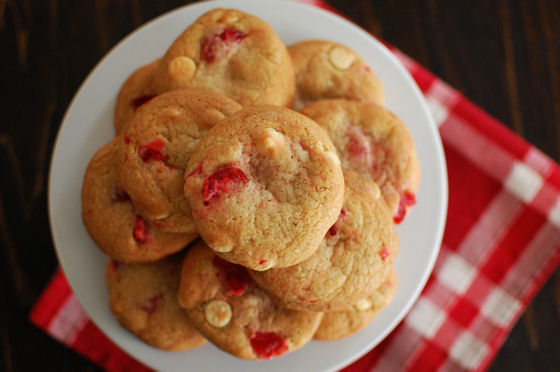 I wasn't sure if maraschino cherries would work in a cookie. I was a little worried they'd be too sweet and make the cookies unbearable. To help prevent this from happening, I decided to throw in more white chocolate than cherries. I also cut the cherries fairly small and was sure to pat them dry so there was minimal juice being added to the cookies.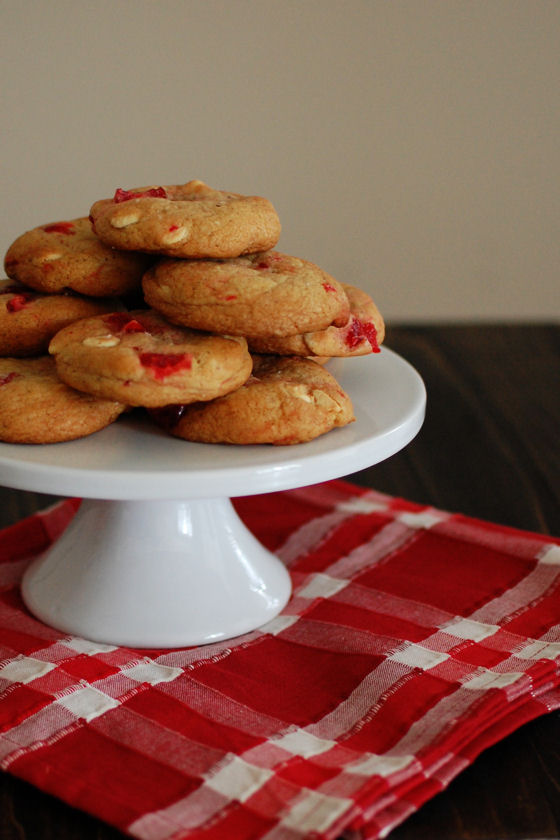 I'm happy to report these cookies are not too sweet at all. The subtle white chocolate balances out the sweetness. And the sea salt sprinkled on top doesn't hurt either. The cherries help to keep these cookies soft as an added bonus.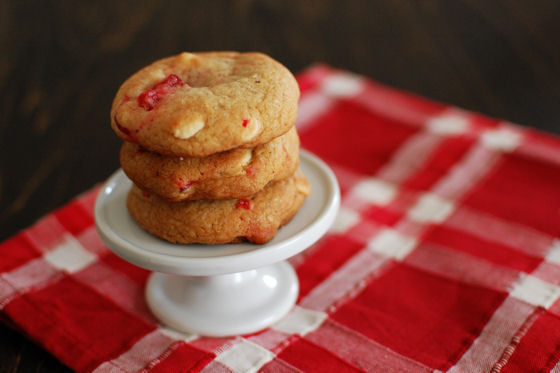 One Year Ago: Cardamom Candied Bacon and Warm Chickpea, Mushroom, and Brussels Sprouts Salad
Two Years Ago: Triple Layer Oreo Cake
Three Years Ago: Mixed Berry and Cream Cheese Filled King Cake
Four Years Ago: Crockpot Red Curry Chicken with Butternut Squash
Maraschino Cherry White Chocolate Chip Cookies
Maraschino cherries give a burst of sweet cherry flavor and color to white chocolate chip cookies
Ingredients:
1 cup (2 sticks) butter
4 oz cream cheese, softened
3/4 cups brown sugar
3/4 cups sugar
2 eggs
3 1/4 cups flour
1 tsp salt
1 tsp baking soda
3/4 cup (~15-18 cherries) maraschino cherries, quartered and patted dry
1 1/4 cups (~7.4 oz) white chocolate chips
sea salting, for sprinkling (optional)
Directions:
Melt the butter in a saucepan until brown and set it aside to cool.
Cream the butter, cream cheese and both sugars together with an electric mixer until smooth.
Add the eggs and beat until combined.
Turn the mixer on low and mix in the flour, salt and baking soda until just combined.
Add the cherries and white chocolate chips and mix until just incorporated.
Cover the dough and refrigerate until chilled, several hours or overnight.
When ready to bake, preheat the oven to 375 degrees and line a few trays with baking paper.
Roll 1/4 cup size balls of dough and place them on the trays. Flatten slightly. Sprinkle with sea salt.
Bake for 9-12 minutes, until the edges are golden.