Homemade White Cheddar Cheez-Its
There are some foods out there that I just don't like. It's a fairly short list of foods… Pickles. Grapes. Cheez-Its. Actually, it's not fair to call out Cheez-Its specifically. I don't like any cheese flavored crackers. Goldfish and those packages of cheese crackers with peanut butter go on the list too. There's just something about those orange crackers that I can't stand.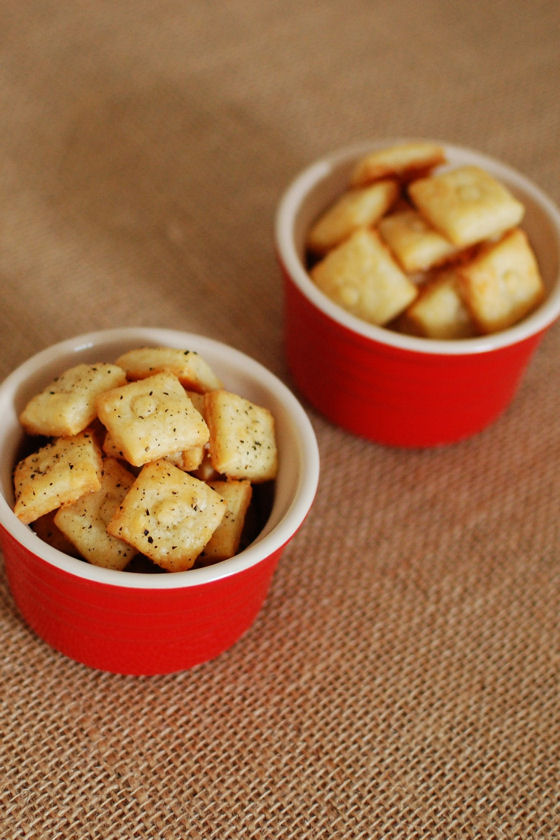 Hubby, on the other hand, loves Cheez-Its. It's one snack he can have in the house that he knows I won't touch. However, since I do the grocery shopping in our house, I rarely buy them… When I saw these Homemade Cheez-Its come up on Rachel's blog, I knew I had to make them for Hubby. I figured if I made them myself and they weren't neon orange, I might even like them as well.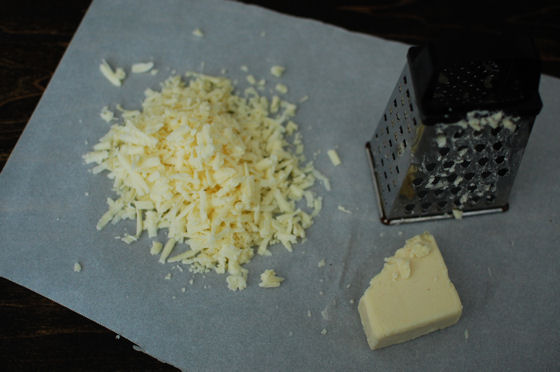 These crackers come together in no time at all. With just a few ingredients and a few minutes of your time, the dough is in the fridge to chill. Rolling them out is simple because the dough is not too sticky or fragile. I measured my crackers so they'd all be the same size.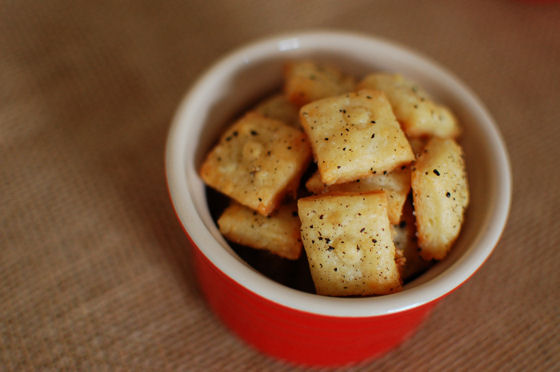 Since we're still in our temporary apartment, I don't have a cake tester or toothpicks in the house. I decided to use the end of a plastic straw to poke my crackers. I love the button look that it gave the crackers! I also decided to sprinkle half of my dough with some freshly ground pepper. (The other half just got sea salt on top of them).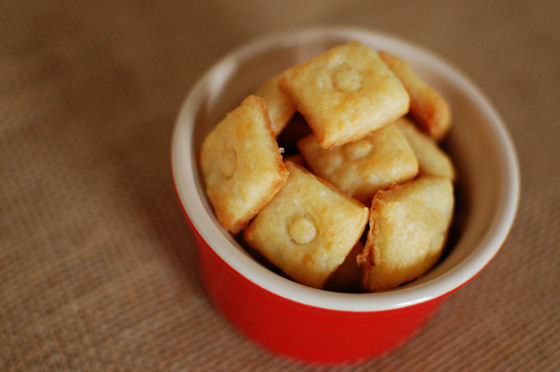 Hubby absolutely adored these crackers. We took these to our friends house for game name and they disappeared in no time flat. Even though the recipe yields 12 dozen crackers, they're really small (1″x1″) and oh so tasty. I promise, you'll be wishing you made a double batch!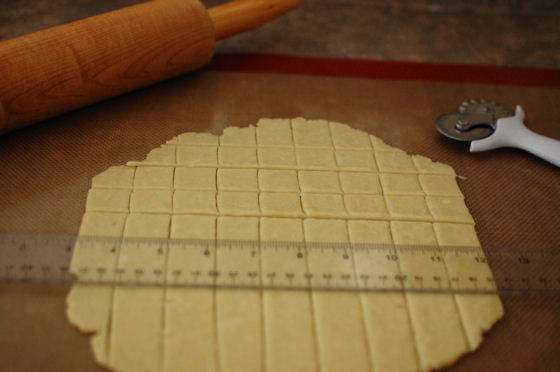 One small tip for you. I rolled my dough out on my Roul'Pat. Since the dough is pretty thin, the easiest way to pick up the individual pieces was to actually put one hand under the Roul'Pat such that the pieces basically peeled right off of it. Obviously, if you roll your dough on your counter, that won't work, but if you use a silicon mat to roll out your dough, this will help keep a uniform shape to your crackers.
Homemade Cheez-Its
Simple crackers you can make at home that taste better than the store-bought ones
Yield: ~12 dozen crackers
Ingredients:
8 oz sharp cheddar cheese, shredded
3 Tbsp butter, softened
1 Tbsp vegetable shortening
1/2 tsp salt
1 cup flour
2 Tbsp cold water
Course sea salt for sprinkling
Freshly ground pepper for sprinkling (optional)
Directions:
In the bowl of a stand mixer, combine cheese, butter, shortening and salt on medium-high speed. Reduce speed to medium, slowly add flour and water.
Continue mixing until dough is smooth.
Divide dough into two, creating discs and wrapping in plastic. Chill for at least 30 minutes.
Preheat oven to 375 degrees. Prepare two baking sheets with silicone baking mats or parchment paper.
Roll out dough to 1/8″ thickness. Dough will be approximately 10"x10". Using a ruler as a guide, cut long 1" horizontal strips. Rotate ruler to slice vertically, creating 1"x1" squares. Carefully transfer individual squares to prepared baking sheet. Repeat process with remaining dough.
Using a toothpick or cake tester (I used a straw), create holes in the center of each square.
Sprinkle with course salt. Sprinkle with pepper if using.
Bake for 10-15 minutes. I removed mine at 12 minutes. The time will depend on the thickness of your squares as well as the crispness you prefer. Watch your oven closely from 10 minutes on.
Best eaten the same day. Store remainder in an airtight container.
3 Responses to "Garlic Parmesan Cheez Its"
Leave a Comment