Spice Rubbed Chicken
Today I've got another recipe that would be perfect for Memorial Day. I've made this chicken numerous times. I have no idea why it has taken me so long to getting around to posting it…
We've made it for friends, for family, and for other guests. It's always been a huge hit. Huge. As in, everyone asks for the recipe.
This Spice Rubbed Chicken comes out perfectly moist and tender. No surprise there. The people over at America's Test Kitchen really know what they're doing. They test recipes over and over again until they're foolproof.
I've let this chicken sit in the rub for anywhere from 2 hours to 2 days. Obviously, the longer it has to soak in all that deliciousness, the more amazing the outcome.
Since we don't have a grill, I've always used the instructions outlined below. I'm sure this Spice Rubbed Chicken would be just as awesome cooked on a grill (if not better. Isn't everything better when it's been grilled?)
One Year Ago: Cucumber Hummus Bites and Chocolate Covered Strawberry Truffles
Two Years Ago: Homemade Ding Dongs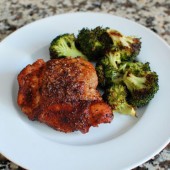 Spice Rubbed Chicken
This chicken is always a huge hit. It's very tender and has just the perfect amount of spice
Ingredients:
5 pounds bone-in, skin-on chicken pieces, trimmed of excess fat and skin
2 Tbsp kosher salt
3 Tbsp brown sugar
2 Tbsp chili powder
2 Tbsp smoked paprika
2 tsp ground black pepper
1/4-1/2 tsp cayenne pepper
Directions:
Use a sharp knife to make 2 or 3 short slashes in the skin of each piece of chicken, taking care not to cut into meat.
Combine the salt, sugar, and spices in a small bowl and mix thoroughly. Coat the chicken pieces with the spices, gently lifting the skin to distribute the spice rub underneath but leaving it attached to chicken. Transfer the chicken skin side up to wire rack set over rimmed foil-lined baking sheet, lightly tent with foil, and refrigerate 6 to 24 hours.
Secure the skin of each breast piece with 2 or 3 toothpicks placed near the edges of the skin.
Adjust an oven rack to the middle position; heat the oven to 425 degrees.
Roast the chicken until the thickest part of smallest piece registers 140 degrees on an instant-read thermometer, 15 to 20 minutes.
Increase the oven temperature to 500 degrees and continue roasting until the chicken is browned and crisp and the thickest parts of the breast pieces register 160 degrees, 5 to 8 minutes longer, removing pieces from the oven and transferring to a clean wire rack as they finish cooking. Continue to roast the thighs and/or drumsticks, if using, until the thickest part of the meat registers 170 to 175 degrees, about 5 minutes longer.
Remove from the oven; transfer the chicken to a rack and let it cool completely before refrigerating or serving.