Chicken Noodle Soup
Chicken noodle soup is one of those perfect meals that can make you feel all warm inside. Especially one a cold and windy day or when you're sick. I made a big (huge) batch of chicken noodle soup a couple weeks ago. We froze half of it in individual servings. That came in really handy this past week when Hubby and I were both sick. I know some people don't freeze their soup with the noodles in there so they don't get all mushy, but the soup was just fine in my book. Of course, when you have strep throat, the more mushy the noodles, the better.
I doubled the recipe since all of the recipes I saw called for a 1/2 bag of noodles. It ended up making a TON of soup and it barely all fit in our big stock pot (the recipe below is for a single batch). I was a bit short on the chicken broth, but I like my soup really full of the good stuff (last week when we were sick, we ended up adding some broth to our soup since the broth is really what you're after when you're sick).
I used the leftovers from a butterflied, broiled chicken Hubby had made. I also threw in the veggies from under the chicken because they're so flavorful.
One Year Ago: Kitchen Storage and Organization, Our Spice Rack, and Kitchen Renovation Before and After Pics
Two Years Ago: Banana Bars with Cream Cheese Frosting
Three Years Ago: Cake Balls, Oreo Truffles, and Peanut Butter Balls and Holiday Cupcakes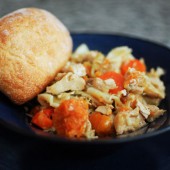 Chicken Noodle Soup
Ingredients:
2 Tbsp olive oil
4 carrots
3 stalks celery
1 onion
4 cloves garlic
1 Tbsp fresh chopped thyme
2 quarts chicken broth, homemade or best quality
1 bay leaf
2 cups cooked chicken meat
6 oz egg noodles
salt and fresh ground pepper to taste
Directions:
Heat oil over medium heat in a large stock pot. Add carrots and celery. Cook until just beginning to soften, about eight minutes. Add onion and cook five minutes more.
Add garlic and thyme. Cook until fragrant, about one minute.
Add all broth and bay leaf. Reduce heat to medium-low. Simmer 15 minutes.
Add noodles and chicken. Simmer 8-10 minutes more until noodles are cooked through. Add salt and pepper taste.