Cranberry Cardamom Muffins
Cranberry cardamom muffins are a sweet, tart, and fragrant way to start your day (and use up that extra bag of cranberries in your fridge)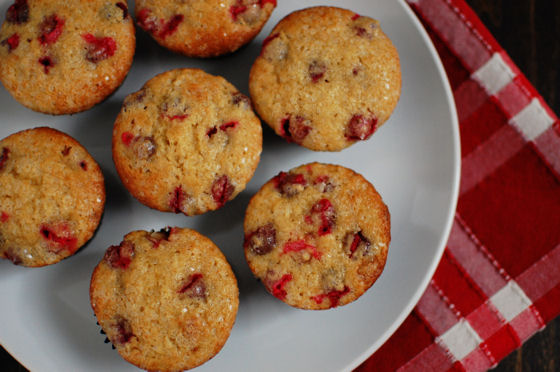 Happy New Year!! I hope everyone had a great holiday season. Today we're heading back to work to kick off the 2014 year. And I've got one of these cranberry cardamom muffins packed in my lunch to enjoy once I get to my desk today.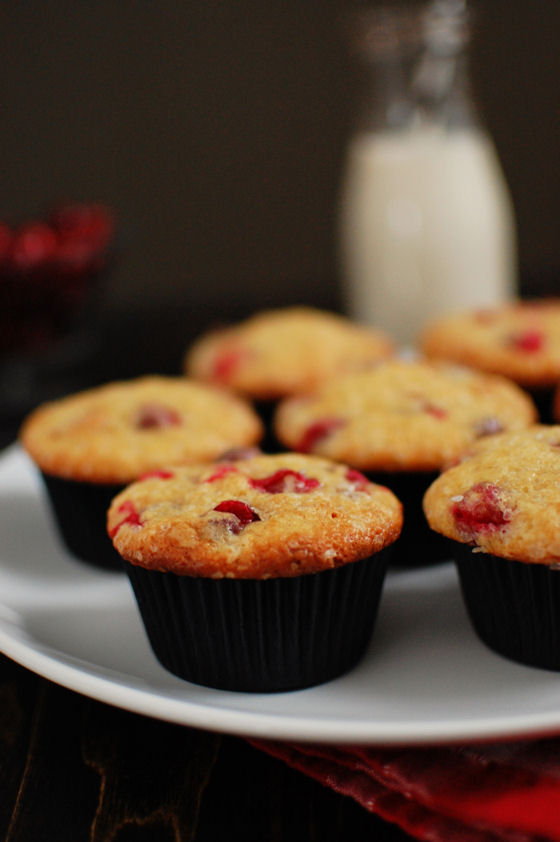 I had an extra bag of cranberries in the fridge after the holidays and set out to use them up quickly. I could have just frozen them, since cranberries freeze so well, but I already have 3 bags of cranberries in the freezer…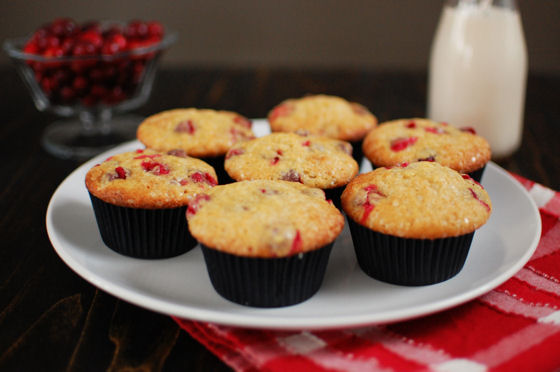 These muffins are mixed by hand, with a wooden spoon. It's a great recipe to throw together on a Sunday morning while you're brewing your coffee. And with a sprinkling of decorating sugar, they're all sparkly. Just like the snow that we've had outside for the past couple of weeks and months.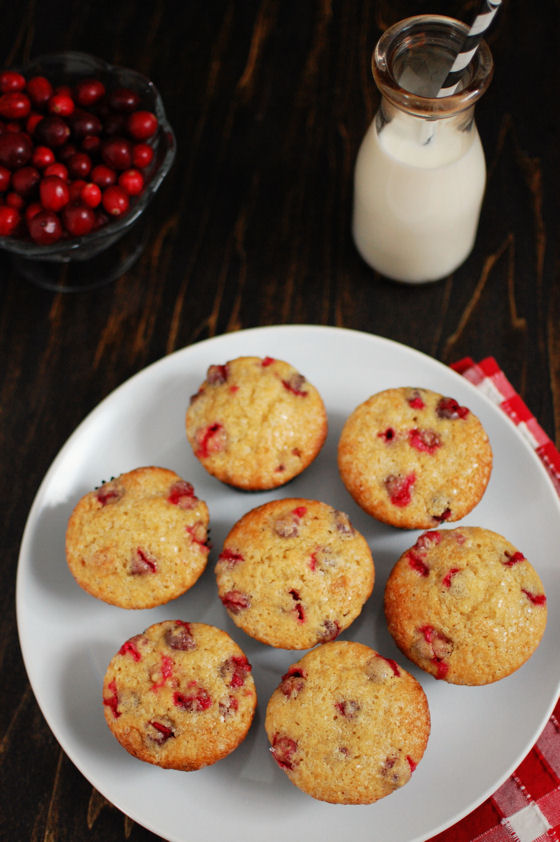 Two Years Ago: 5 Tips for walking an Avon Walk
Three Years Ago: Chewy Molasses Chocolate Chip Cookies and Red Velvet Cheesecake Cake Truffles
Four Years Ago: Kitchen Extra Counter and Cabinet Space and Kitchen Backsplash
Five Years Ago: White Chocolate Cranberry Cupcakes with White Chocolate, Cranberry, and Pistachio Cream Cheese Frosting and Apple Cake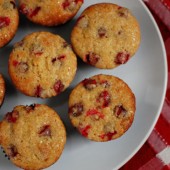 Cranberry Cardamom Muffins
Cranberry cardamom muffins are a sweet, tart, and fragrant way to start your day (and use up that extra bag of cranberries in your fridge)
Ingredients:
2 cups all purpose flour
1/2 tsp baking powder
1/2 tsp baking soda
1/4 tsp salt
1/4 cup vegetable oil
1/2 cup sugar
1/2 cup brown sugar
1 egg
1/2 tsp ground cardamom
1/2 tsp ground ginger
1 tsp vanilla extract
1/2 cup buttermilk
1/2 cup orange juice
1 1/2 cups fresh cranberries
coarse sugar, for topping
Directions:
Preheat oven to 375 degF. Line a 12 cup muffin pan with paper liners.
In a medium bowl, whisk together flour, baking powder, baking soda and salt.
In a large bowl, whisk together vegetable oil, sugar, brown sugar and egg until well combined. Whisk in cardamom, ginger and vanilla. Stir in half of the flour mixture, followed by the buttermilk and orange juice. Stir in remaining flour mixture, mixing until no streaks of dry ingredients remain. Fold in cranberries so that they are evenly distributed in the batter.
Divide batter evenly between prepared muffin cups, filling each at least 3/4 full. Top muffins with coarse sugar.
Bake for 17-19 minutes, or until muffins spring back when lightly pressed and a toothpick inserted into the center comes out clean.
Turn muffins out onto a wire rack to cool completely.