Funfetti Oreo Cupcakes
You know it's a party when there's funfetti involved.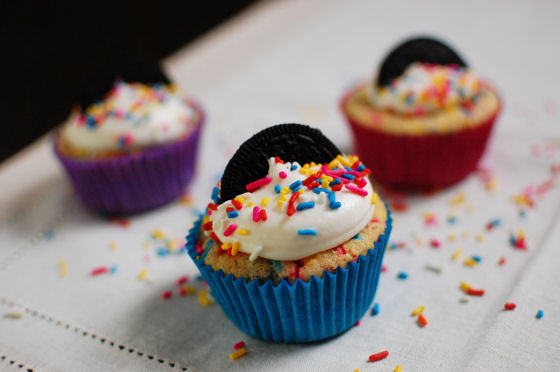 I made these Funfetti Oreo Cupcakes for my birthday party a few months ago and figured they would be perfect to post today, my blog's 6th birthday (and post #1200)! I can't believe I've been doing this for 6 years now… Thank YOU GUYS for reading. It means the world to me.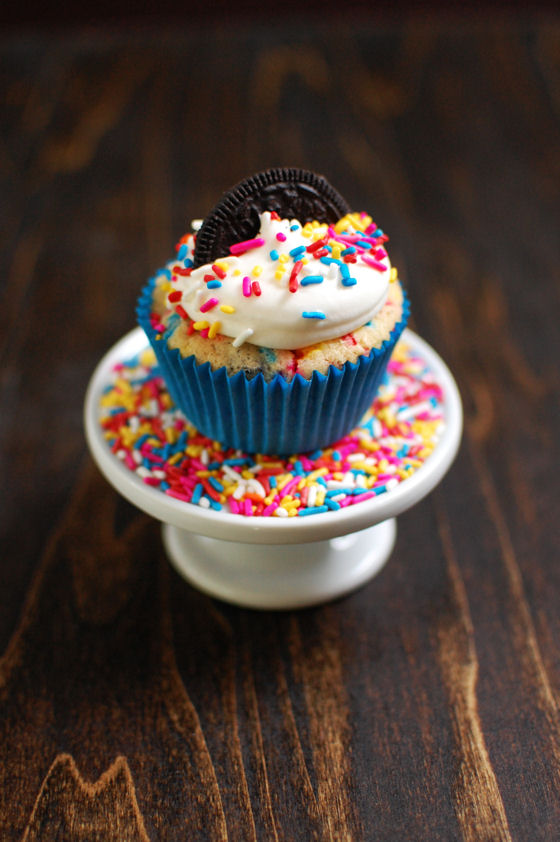 When I was deciding on a menu for my birthday party, I knew I wanted to make a fun dessert. Originally I was going to do an elaborate layer cake, but as the size of the party started to grow, I decided on something more portable. We were going to have quite a few toddlers running around the house too, so something they could grab and eat outside was much preferred over a cake that had to be cut and plated.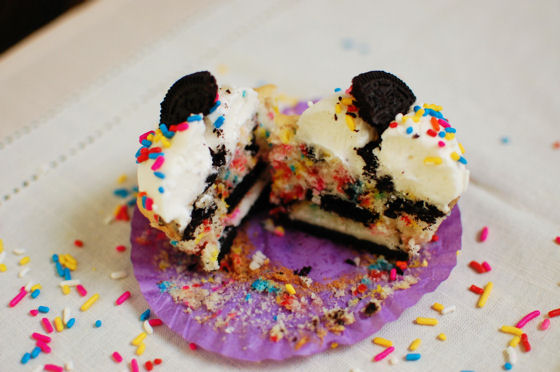 I haven't made cupcakes much recently and I looked through all my normal go-to recipe sources, but nothing was catching my eye. Hubby suggested I make my Oreo Cupcakes since most of our friends here in Ohio have never had them. The idea stuck and to make them appropriately festive for a birthday party, I threw in some sprinkles. Actually, a lot of sprinkles.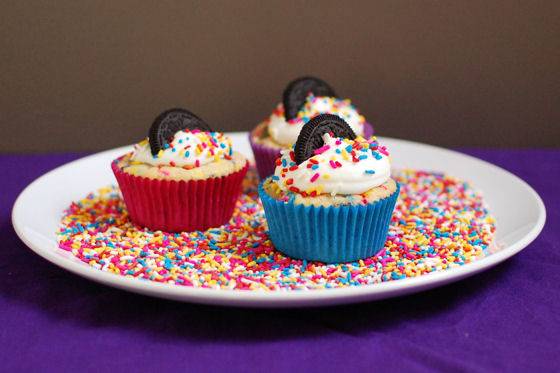 I absolutely love how these came out. With the brightly colored cupcake liners and the fun sprinkles on the frosting and in the cupcake, they really are the perfect celebration cupcake. You could make them for a baby shower, a bridal shower, a birthday, or really any occasion. They'd be fun with just orange sprinkles in them for Halloween.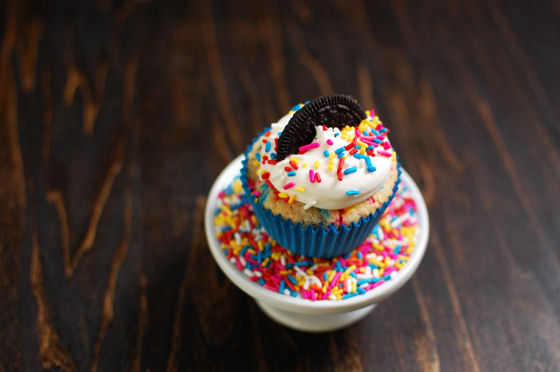 I posted this picture on Instagram a couple days after the party as I was enjoying the last of these cupcakes. Looking back just makes me want to make them again!
Two Years Ago: Baked Egg in a Tomato
Six Years Ago: Sauteed Mushrooms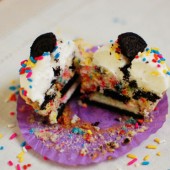 Funfetti Oreo Cupcakes
Oreo cupcakes with large chunks of Oreo cookies baking in the cupcake, and sprinkles to make them festive!
Ingredients:
1 stick unsalted butter, at room temperature
1 cup milk
2 tsp vanilla extract
2 1/4 cups flour, plus 2 Tbsp for the Oreo chunks
1 tsp baking powder
1/2 tsp salt
1 2/3 cup sugar
3 large egg whites, at room temperature
1 cup sprinkles
1 pkg Oreo Cookies (~45 cookies)
double batch of cream cheese frosting
Sprinkles for decorating
Directions:
For the Cupcakes
Preheat oven to 350F. Insert liners into a medium cupcake pan.
Twist apart 24 Oreos. Place the wafer with filling on it, filling side up, in the bottom of each paper liner. Cut other wafers in half. Save 24 halves to place in the frosting.
Cut the remaining Oreo cookies and wafer halves in to quarters with a sharp knife. Toss with 2 Tbsp flour and set aside.
In a large bowl cream the butter until fluffy, about 3-5 minutes. Add the milk and vanilla and mix to combine.
In a separate bowl mix together the flour, baking powder, and salt.
Add the dry ingredients to butter mixture. Mix until integrated. Stir in sugar. With an electric mixer on low speed, beat for 30 seconds. Turn the mixer up to medium speed and beat for 2 minutes. Add the egg whites. Beat for 2 more minutes. Stir in the sprinkles and quartered cookies.
Fill the cupcake lines three-quarters full. Bake for about 20 minutes or until a toothpick inserted in the center of cupcakes comes out clean. Cool cupcakes in the pan.
Assemble the cupcakes
Once cupcakes have cooled completely, frost with cream cheese frosting. Sprinkle with sprinkles and place 1/2 of an Oreo on the frosting of each cupcake.