Rack of Lamb with Mint Relish
Remember back in the fall when I had my America's Test Kitchen Food and Friends Dinner Party? The Rack of Lamb meal that I prepared was from the spring section in the Menu Cookbook. At the time, we commented about how it would make a great Easter meal.
So here I am, months later, posting the recipes from that meal. Hope you guys don't mind the delay! I mentioned it at the time, but when we cooked the Rack of Lamb, we were very nervous. Having never purchased and prepared our own lamb at home, we didn't want to mess things up (lamb isn't cheap, you know!) I should have known I had nothing to fear with an America's Test Kitchen recipe. The meat came out PERFECTLY.
And the relish that is served on top of the lamb? It brings in some bright flavors to enhance the taste of the meat. Definitely make the relish with the lamb. In fact, remembering this meal has me thinking we'll make it again next weekend for our Easter dinner!
One Year Ago: Margarita Cupcakes and Yellow Cupcakes with Swiss Meringue Buttercream
Two Years Ago: Mocha Brownies and Lemon Bars
Three Years Ago: March Madness Crinkle Sugar Cookies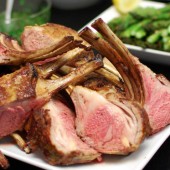 Rack of Lamb with Mint Relish
Rack of Lamb is an elegant meal to serve for any occasion. This recipe is foolproof!
Ingredients:
For the Mint Relish
3/4 cup minced fresh parsley
3/4 cup minced fresh mint
3/4 cup extra-virgin olive oil
1/3 cup red wine vinegar
3 Tbsp water
1 shallot, minced
5 garlic cloves, minced
2 1/2 tsp sugar
1 1/2 tsp salt
For the Lamb
4 (1 1/4 - to 1 1/2 -pound) racks of lamb, 8 to 9 ribs each, trimmed
Salt and pepper
2 Tbsp vegetable oil
Directions:
For the Mint Relish
Combine all ingredients in bowl. Let sit at room temperature until needed. (Makes 1½ cups.)
For the Lamb
Line large roasting pan with aluminum foil. Adjust oven rack to lower-middle position, place prepared pan on rack, and heat oven to 425 degrees.
Pat lamb dry with paper towels and season with salt and pepper. Heat 1 tablespoon oil in 12-inch skillet over medium-high heat until just smoking. Place 2 racks in skillet, fat side down with ribs facing outward, and cook until well browned, about 5 minutes.
Using tongs, stand racks up in skillet, leaning them against each other, and brown bottoms, about 2 minutes; transfer to large platter. Repeat with remaining 1 tablespoon oil and remaining 2 lamb racks; transfer to platter. (Seared lamb can be held at room temperature for up to 1 hour before finishing in the oven.)
Transfer lamb racks to hot pan in oven and roast until lamb registers about 125 degrees (for medium-rare), 12 to 15 minutes. Transfer lamb to carving board, tent loosely with foil, and let rest for 5 to 10 minutes. Cut lamb racks into individual chops by slicing between each rib and serve with mint relish.