Butternut Squash Lasagna Rolls
The first time I had this meal was almost three years ago… You see, my friend Cara from Cara's Cravings had offered to host a freezer meal get together at her house. I think that was the first time we ever met in person. Cara got all the groceries and a handful of us girls made the meals together. Then we took meals home with us to put in our freezers. It was a lot of fun!
Since that first time I was introduced to this recipe, I have thoroughly enjoyed it. I made a HUGE batch of these rolls prior to our kitchen renovation. It was portioned into two rolls per container and froze them. Then Hubby and I reheated in the microwave for a quick healthy, delicious lunch or dinner while we had no kitchen.
Hubby and I both enjoy the flavors in these rolls. How can you really go wrong with butternut squash, goat cheese, shallots, and bacon? Just look at how pretty those shallots are…
This recipe is awesome and I feel bad that it took me this long to post about the recipe. I always make it into rolls, but you could also make it into a layered lasagna. I just think the rolls are fun and cute!
One Year Ago: Cous Cous Salad with Butternut Squash and Cranberries
Two Years Ago: Chocolate Chip Cookie Pie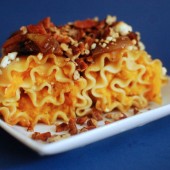 Butternut Squash Lasagna
Ingredients:
For the Filling
10 cup (1/2-inch) cubed butternut squash (about 4 pounds)
1/4 cup chopped shallots
2 tablespoons chopped fresh sage
Cooking spray
1 tablespoon butter, melted
1/2 cup Greek yogurt
1/4 cup milk
1/4 teaspoon salt
1/4 teaspoon freshly ground black pepper
For the Sauce
3 slices applewood smoked bacon, chopped
1/2 pound shallots, peeled and halved
6 garlic cloves, crushed
1/2 cup dry white wine
1 (14-ounce) can chicken broth
1/4 teaspoon salt
1/4 teaspoon freshly ground black pepper
Other
16 cooked lasagna noodles
3/4 cup crumbled goat cheese
1/4 cup chopped toasted pecans
Directions:
Prepare the Filling (this can be done a day in advance)
Preheat oven to 400°.
To prepare filling, combine first 3 ingredients on a jelly roll pan coated with cooking spray. Drizzle with butter; toss to coat. Bake at 400° for 25 minutes or until lightly browned, stirring occasionally. Place squash mixture in a large bowl; mash with a potato masher. Stir in greek yogurt, 1/4 cup milk, 1/4 teaspoon salt, and 1/4 teaspoon pepper.
Prepare the sauce
To prepare sauce, cook bacon in a Dutch oven over medium-high heat until crisp. Remove bacon from pan, reserving 2 teaspoons drippings in pan; set bacon aside. Add 1/2 pound shallots and garlic to drippings in pan; sauté 5 minutes or until browned. Bake at 400° for 25 minutes, stirring occasionally. Place pan on stovetop over medium-high heat. Add wine, scraping pan to loosen browned bits. Add broth; bring to a boil. Reduce heat; simmer 5 minutes. Remove from heat; stir in salt and pepper.
Assemble the meal
Spread 1/4 cup filling over each noodle, leaving a 1/2-inch border on each short end. Beginning with a short end, roll up noodles jelly-roll fashion. Place rolls, seam sides down, in a 13 x 9-inch baking pan coated with cooking spray. Pour sauce over noodles; sprinkle evenly with cheese. Bake at 400° for 25 minutes or until cheese is golden. Sprinkle with bacon and hazelnuts.

Boston area readers, don't forget that I'm selling pies for Pie In the Sky. The cost of your pie will feed someone in need for an entire week! Please consider buying a pie for a good cause.