Friday Faves – The Novice Chef makes Churro Cake
Happy Friday everyone!! Who's ready for the weekend? It's supposed to be beautiful here in Boston, so I plan to spend some quality time outside. For this week's Friday Favs, I bring you Jessica from The Novice Chef. Have you guys read her blog? She seriously cracks me up on a daily basis. Between the humor in her posts and her random tweets, Jessica is one sassy lady! And to top things off, her recipes and photos are totally drool-worthy.
If there is proof that God loves us, I am sure it is in the perfect combination of butter and sugar. Just about any recipe that begins with "in a large bowl, cream together the butter and sugar" is a guaranteed winner in my book. Sometimes you can pick a bottle of bad wine. Or you try a new restaurant and it's just…eh. But when you are baking with butter and sugar…magic happens. Even when the recipe is a flop, you still find yourself trying second and third bites over the sink. At least I hope you are that kind of person, it would be awkward if I am the only one with crumbs all over my shirt.
When Jen asked me to guest post for the Friday Favs I knew exactly what I wanted to make for y'all. Churro Cake! …or more precisely named, Cinnamon Vanilla Scented Cake with Cinnamon Cream Cheese Frosting and a drizzle of Dulce De Leche. In essence, this is the cake that will bring down anyone's willpower. The soft, tender cake and big wonderful swirls of frosting will be the end of diets everywhere.
Good to the very last bite!
Don't forget about my Power of Pink Challenge – make something PINK by the end of the month to raise Breast Cancer Awareness!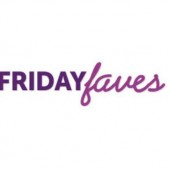 Churro Cake: Cinnamon Vanilla Scented Cake with Cinnamon Cream Cheese Frosting
To make the spikes on the buttercream, just tap the cake gently with the back of a small spoon.
Ingredients:
For the Cake
3 cups all-purpose flour
3 teaspoons cinnamon
3 teaspoons baking powder
1 teaspoon salt
1 (2 sticks) cup unsalted butter, at room temperature
2 cups sugar
4 eggs
4 teaspoons vanilla extract
1/2 cup vegetable oil
1 cup milk
For the Frosting
4 ounces cream cheese, at room temperature
4 tablespoons unsalted butter, at room temperature
2 cups confectioners' sugar
1 teaspoon vanilla extract
1 teaspoon cinnamon
Directions:
For the Cake
Preheat the oven to 350 degrees. Spray three 8 inch round baking pans with Baker's Joy; set aside.
In a medium bowl, combine the flour, cinnamon, baking powder, and salt; set aside.
In a large bowl, or the bowl of a standing mixer, cream the butter and sugar together until light and fluffy. Add the eggs, one at a time, until just combined then stir in the vanilla and oil. Sprinkle 1/3 of the flour mixture over the butter mixture and gently stir in until barely combined. Add half of the milk, mixing until just combined. Repeat these steps with the remaining flour mixture and milk, ending with the flour. Do not over mix.
Fill each baking pan with a third of the batter. Bake for 25 to 30 minutes, or until a toothpick inserted in the center comes out with one or two crumbs clinging to it. Allow the layers to cool completely before frosting.
For the Frosting
Cream the butter and cream cheese together in a large bowl. Add the sugar, one cup at a time, beating well between each addition. Stir in the cinnamon until thoroughly combined. Then stir in the vanilla. Beat the mixture well, until light and fluffy.
Ice onto cake, sprinkle with a little cinnamon sugar and top with a drizzle of Dulce De Leche if desired.