Cinnamon Chip Scones
Can you believe I've never made scones before? I just never think to make them… When I started thinking about what to do with all the cinnamon chips I have in my cabinet, I got a couple recommendations to make cinnamon scones. I decided to give them a shot.
I found a recipe that called for mini chocolate chips and just subbed in the cinnamon chips. I cut my scones into 16 squares and popped them in the freezer. Slowly we worked our way through them and I honestly preferred them chilled, straight out of the freezer.
Hubby commented that these tasted like pie crust with cinnamon chips in it. No matter how you describe them, we both agreed they are worth making again. Hubby has requested that happens sooner rather than later.
One Year Ago: Black Bean and Bell Pepper Cous Cous Salad
Two Years Ago: Alton Brown's The Puffy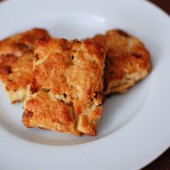 Cinnamon Chip Scones
Ingredients:
For the Scones
2 cups (10 oz) flour
1/4 cup (1 3/4 oz) sugar
2 1/2 t baking powder
1/4 tsp salt
1 stick butter (4 oz) (cold, cut into pieces)
1 cup (8 oz) heavy cream (cold)
3/4 c cinnamon chips
For the Topping
1 egg, lightly beaten
2 T sanding sugar or granulated sugar
Directions:
Preheat over to 425 degrees
Mix together dry ingredients.
Using a pastry cutter, two knives or your fingers (I use my fingers), cut in the butter. (The book uses a food processor, but I like to make scones by hand...less to clean up!)
Add whipping cream and chocolate chips. Blend together quickly (I use my hands and/or a spatula). Do not overmix.
Shape into a round or square.
Brush with egg wash. Sprinkle with sugar.
Cut into shapes. Place on parchment or Silpat covered baking sheet.
Bake for 14-16 minutes until golden brown and delicious.

Don't forget about Bloggers Bake for Hope – Bloggers Bake. You Bid. 100% of proceeds go to Komen for a Cure. Register to bake by April 30th, come back for bidding May 4-6.