Strawberry Cheesecake Ice Cream Bars
One of the things I knew I wanted to make with our freshly picked strawberries was these ice cream bars. I made them last year with a blueberry compote and lemon ice cream. They were a big hit and I even mentioned at that time that I wanted to try them again with a strawberry compote and cheesecake ice cream.

Now last year I was able to use dairy free ice cream and add lemon to it so I could eat these bars. This year though, I had a really hard time even finding cheesecake flavored ice cream. After searching a couple grocery stores, all I could find was brownie cheesecake ice cream and strawberry cheesecake ice cream. Both sounded amazing, but I really just wanted plain cheesecake flavored ice cream. I had seen it pop up in various food blogs so I knew it was possible.

Then someone suggested ColdStone. Luckily there is one near us so I stopped by to grab a quart of the stuff. Unfortunately, I couldn't eat any of it. I'm pretty sure my stomach would hate me for at least a month even if I ate just one bite…

The bars from last year had a LOT of ice cream in them. They were actually pretty hard to eat because they were just too big to bite in to. So I knew I wanted to cut back the amount of ice cream. I ended up using about 1 1/2 pints of ice cream this time around and I think that's a better ratio.

Hubby had a bowl of ice cream by itself while I was assembling these bars and he said the ice cream by itself was "weird". I gave him a dollop of the compote on top of his ice cream and he just said "Oh yea, that'll be awesome". Hubby was able to confirm what what we assumed about these guys. They are decadent and delicious.
Two Years Ago: Blueberry Muffins
Check out my SECOND week of Strawberry Recipes HERE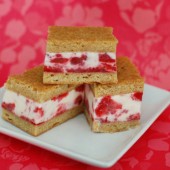 Strawberry Cheesecake Ice Cream Bars
Ingredients:
For Strawberry Compote
2 cups strawberries
1/4 cup sugar
1 tablespoon fresh lemon juice
2 teaspoons cornstarch
For Sandwich Layers
1 cup all-purpose flour
1/2 teaspoon baking powder
1/4 teaspoon baking soda
1/4 teaspoon salt
1 stick unsalted butter, softened
3/4 cup packed light brown sugar
1 large egg
1/2 teaspoon pure vanilla extract
1 1/2 pints cheesecake ice cream
Directions:
For the Strawberry Compote
Cook strawberries and sugar in a 12-inch heavy skillet over medium-high heat, thoroughly crushing strawberries with a potato masher, until juices are released and sugar has dissolved, about 2 minutes.
Stir together lemon juice and cornstarch, then stir into strawberry mixture. Boil, stirring, 1 minute (mixture will thicken).
Transfer strawberry compote to a bowl and chill until cold, about 1 hour.
For the Sandwich Layers (while Compote Chills)
Preheat oven to 375°F with rack in middle. Butter baking pans and line with foil, leaving a 1-inch overhang on each side, then butter foil.
Whisk together flour, baking powder, baking soda, and salt in a small bowl. Beat together butter and brown sugar in another bowl with an electric mixer at medium-high speed until pale and fluffy, about 3 minutes. Beat in egg and vanilla. At low speed, add flour mixture in 2 batches, mixing until just combined.
Divide batter between baking pans and spread into thin, even layers with offset spatula. Bake until golden-brown but still tender, 10 to 12 minutes. Cool completely in pans, about 30 minutes.
Assemble Sandwiches
Drop spoonfuls of the compote on the bottom cookie, then top with all of the ice cream, then add the rest of the compote on top of the ice cream. Use a knife to swirl the compote and ice cream together. Invert second sandwich layer over ice cream, pressing gently to form an even sandwich. Wrap baking pan in plastic wrap and freeze until firm, at least 2 hours.
Transfer sandwich to a cutting board using overhang. Trim edges if desired, then cut into 8 pieces.