Cornish Hens with Garlic and Rosemary
I saw Cornish hens on sale at the grocery store the other day and grabbed them on a whim. I've never even had a Cornish hen before, but I thought I'd give it a shot. Hubby had been wanting to make them ever since I brought the little guys home. But then work got busy for him and I was left with two Cornish hens that needed to be cooked.

I decided to hit up the internet to search for a recipe. I found this one on allrecipes.com and decided to give it a whirl. It was very simple to throw together and the outcome was amazing. The hens were very moist and tender and had great flavor. My sauce never thickened up, but it was still amazing. With over 20 cloves of roasted garlic, how could it be anything but amazing.

We will definitely make this again. It would be great to serve for company or a dinner party because it looks so elegant and requires very little work.
One Year Ago: Homemade Oreos
Two Years Ago: Mini Chocolate Cupcakes with Raspberry and Caramel Filling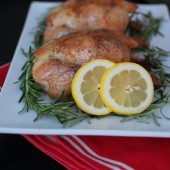 Cornish Hens with Garlic and Rosemary
Ingredients:
2 Cornish game hens
salt and pepper to taste
1 lemon, quartered
2 sprigs fresh rosemary
1.5 Tbsp olive oil
24 cloves garlic
1/2 cup white wine
1 cup chicken broth - I used homemade
4 sprigs fresh rosemary, for garnish
Directions:
Preheat oven to 450.
Rub hens with 1/2 tablespoon of the olive oil. Lightly season hens with salt and pepper. Place 1 lemon wedge and 1 sprig rosemary in cavity of each hen. Arrange in a large, heavy roasting pan, and arrange garlic cloves around hens. Roast in preheated oven for 10 minutes.
In a mixing bowl, whisk together wine, chicken broth, and remaining 2 tablespoons of oil; pour over hens. Continue roasting another 15 minutes.
Reduce oven temperature to 350. Continue roasting about 25 minutes longer, or until hens are golden brown and juices run clear.
Transfer hens to a platter, pouring any cavity juices into the roasting pan. Tent hens with aluminum foil to keep warm. Transfer pan juices and garlic cloves to a medium saucepan and boil until liquids reduce to a sauce consistency, about 6 minutes. Spoon sauce and garlic around hens. Garnish with rosemary sprigs, and serve.